From November 4th to 6th, around sixty artists gather for the Artist Market at Tour & Taxis in Brussels. Visitors can discover and buy works by young producers. Among them: Maxime Yde, graphic artist and designer at Crack.
Maxime Yde's (33) artistic work consists of black, abstract figures and lines on white surfaces. She uses different techniques to put the images on paper. 'With serigraphy you get a flat result, with intaglio you see subtle irregularities that emphasize the fragile and vulnerable nature of the work,' she says. At the Art Market, she shows a selection of unique works and a number of art prints, available in different sizes.
Is there meaning in your work?
Maxime Yde: What I put on paper always comes from a certain feeling. My work is often about interpersonal relationships. It reflects things that play around me, that I observe and do. So it's never just a figure on a sheet. I regularly hear that my work exudes a certain vulnerability, and this is correct.
Whether the emotions I put into it are also understood in that way by the audience is less important to me. On top of that, it has a safe feeling that not everyone immediately sees what it's about, because it's quite exciting to expose yourself like that. Everyone can give it their own meaning, I find it interesting when people project their personal stories onto it. So my work creates a space that they can feel. When I watch a film, I also connect my own life and my feelings to it. Sometimes it's good to have a little cry or to reflect on things. But people don't necessarily have to feel anything about my work, my drawings or pictures can also be interpreted purely aesthetically.
You do both graphic and free work. How do the two relate to each other?
Yde: Previously, I mainly worked with traditional printing techniques, but these are quite long and intensive processes. Due to the shutdowns during the corona pandemic, I could not use the academy's studio, which houses the machines I need to print.
I then started drawing and painting in my small studio at home. I do this with my free hand, so it goes very quickly. If there is something in my head, I immediately put it on paper. This creates very organic and intuitive images. Drawing and painting give me much more freedom than graphic work. It is less well thought out.
I want to explore this further: trying different materials, different media and challenging formats. Very occasionally I work with colour, but only with yellow, blue and red – the primary colours.
In addition to the artistic work, you also work as a graphic designer.
Performance: true. Four years ago I became an independent graphic designer under the name STUDIO WAAIJ. From there I primarily design logos, corporate identities and websites for small businesses in the lifestyle sector. I also work as a freelancer for Crack and for my own free, visual work.
For me, making analog, free work is almost a necessary counterpart to applied, graphic design, which is digital and commissioned.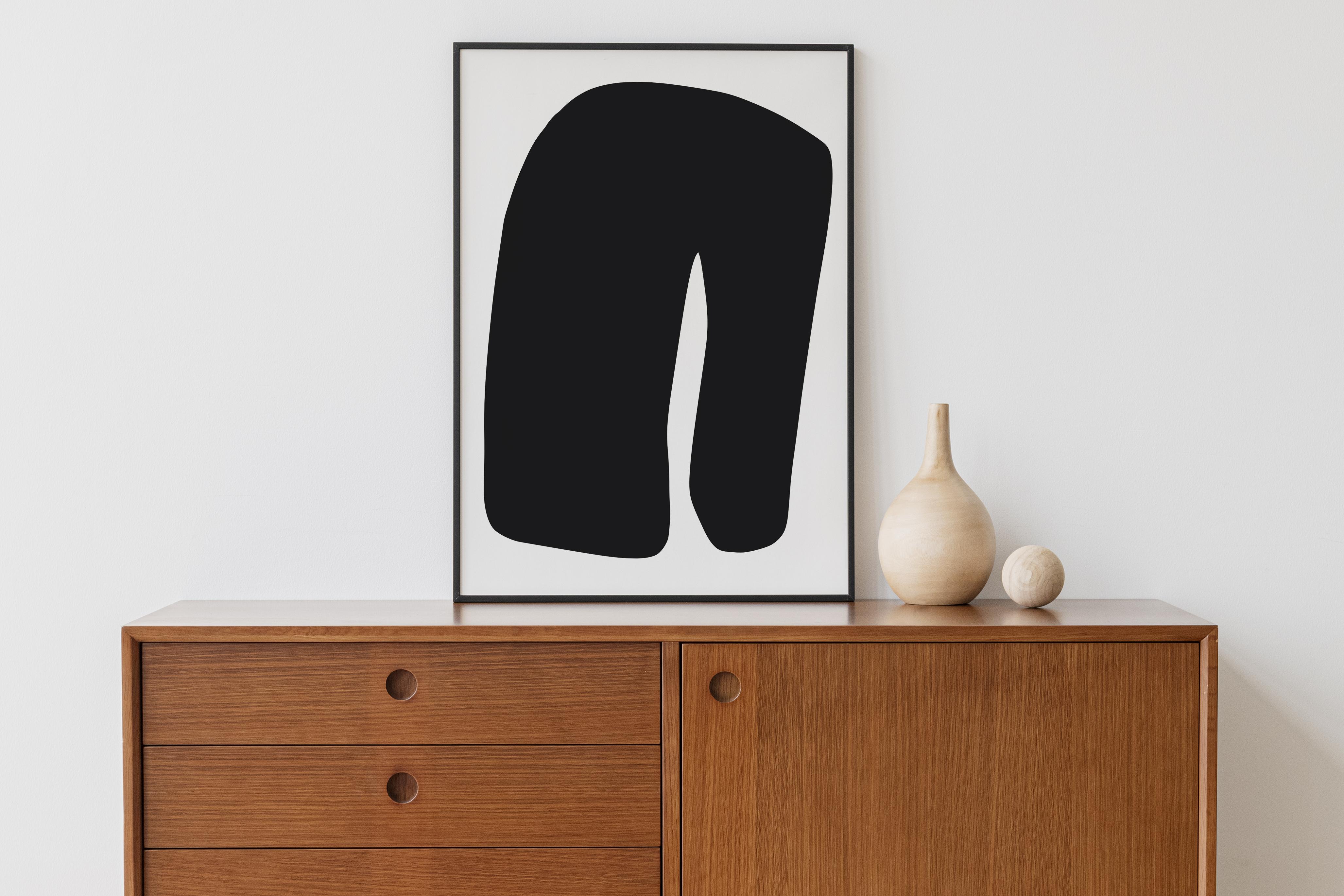 Were you born with art?
Yde: In a way, yes. In addition to being a doctor, my father is also an art collector. As a child I was dragged every weekend to an exhibition in Ghent, Antwerp or Brussels. So we were constantly surrounded by aesthetics. However, it wasn't until after my higher studies that I started part-time art training in non-toxic free graphics, and I've been doing that for about eight years now. Too bad I didn't take the plunge sooner.
Who or what inspires you?
Feature: The work of artists such as Ellsworth Kelly, Egon Schiele, Philip Aguirre, Louise Bourgeois and Constantin Brancuși. I have also just visited a beautiful exhibition of work by Philippe Van Snick in SMAK Hall. The text contained a phrase that I often use when I have to write something about my work: "He found a way to organize the world around him." I try to do that too. I also think the interior is inspiring. And also textures, materials and sometimes nature. Last year I traveled to Gozo, an island belonging to Malta. The soil is very dry. All over the ground I saw rocks, cracks, crevices, all structures in their own right. I think it's interesting to pick a detail and then work around it.
Maxime Yde
– Born in 1989 in Ostend, has lived in Ghent since 2007 with his dog Howie.
– Studied fashion design, communication management and trend watching.
– Studying non-toxic free graphics at Ghent Art Academy (part-time art education).
– Has been doing free graphic work since 2015, has worked as a graphic designer since 2018 under the name STUDIO WAAIJ and is a freelancer for Crack.
– Participated in some small group exhibitions, made a duo expo with Marie Dhaese in December 2021 in Ghent.
– Selling work via www.nationalstore.be.
National artist market
From 4 to 6 November between 12.00 and 20.00 at the Maison de la Poste in Tour & Taxis (Rue Picard 5/7, 1000 Brussels). All information can be found here.