In Den Bosch, more than three thousand people live below the poverty line. Frank de Bie (58) saw the need for food in his town increasing and he decided to take action. "I have known that feeling of hunger myself, and I will never forget it. Now my goal is to make sure no one in this town goes to bed hungry."
Inflation and rising energy prices affect people who are already less fortunate. Frank de Bie saw the gas bill in his area rise from sixty to more than two hundred euros. "Some people really can't afford it." And where there is poverty, there is hunger, Frank unfortunately knows from experience. "This can ensure that children are sent to school without breakfast."
At the same time, he saw that 'many lovely people' were willing to help others. The higher the inflation, the more initiatives came to help others. It inspired him: "I have a large network and I have a lot of time. I thought, I have to do something!"
"Cooking for a few more people can make a world of difference"
He did this via Facebook, with a page he calls Bolle Buikjes. "People who knowingly or unknowingly have a meal left over can place it there and thus connect with someone who could use a meal." Unconsciously, because Frank also knows very well that the Dutch are in the top five when it comes to food waste. It came together so beautifully. "A lot gets thrown out, and that's how it ends well."
You can also deliberately save, adds Frank. "Whether you're cooking for two or four people, you won't save a lot of money and time for the average household, but it can make a world of difference to someone living below the social minimum." So make an extra large bowl of lasagna for a neighbour, is his call.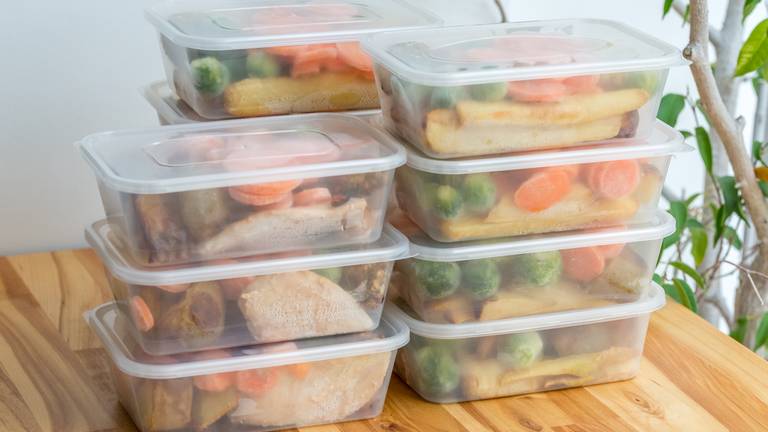 Frank thinks it is very important that his platform is free and that people can respond anonymously. "So don't reply under the post itself," advises Frank, "because then people will see that you're not that broad. Instead, send a personal message to the chef."
The contact therefore remains between the cook or helper and the person who needs the food. "They meet to deliver or pick up the food. That meeting can often lead to really good new contacts."
"You'll never forget that feeling of cold and hunger."
The urge to help these people also came from Frank's own childhood. "I am the oldest of five children and come from a broken family." As a result, he had a 'not-so-good childhood', characterized mainly by poverty and hunger. "It is terrible for a child not to get food. Fortunately, it went much better from the age of seventeen. I've had a good life since then, but that feeling of hunger and cold stays with you forever." His goal is that no one in this town goes to bed hungry anymore.
"Even more important is reaching out to people who need help."
The Facebook group is only a week old, but it quickly grew in membership. Existing organizations are also enthusiastic about Frank's idea. "It's important to find people who enjoy cooking and sharing, or who, for example, want to shop a little extra." He emphasizes: "But it is even more important to reach people who need this help."
In addition, he now gets cooperation from Bossche organizations such as the Vincentius movement and Brabantse Hart i Aktie. "They inform their customers about this initiative. I will also make a flyer that food banks and organizations like this can put in packages or put on the counter."
He clearly cares. When you ask him what he wants to achieve by this, he says forcefully and with audible feeling: "I just want no one in this town to go to bed hungry anymore. I will fight for that idea, and I am willing to put all my time and energy into it,' he says. "I hope that all three thousand families will know within three months that they are more than welcome at Bolle Buikjes."