On the Danube Quay in Budapest, a Russian soldier stands with a machine gun at the ready in front of an empty pantry. He is no more than six centimeters tall, but that does not make him any less evil: the face under the ushanka (Russian fur hat, red.) went from hatred. Artist Mihály Kolodko (44) squats down and checks if the cupboard door still works. There is a large letter 'Z' on the inside. The bronze creaks a little. "I love this sound." A young couple stops and takes pictures enthusiastically.
It is Kolodko's latest creation, part of a series of mini-statues that he has placed in all corners of Budapest in recent years. The artist, who moved from Ukraine to Hungary in 2016, does so without permission. 'Guerrilla art' according to admirers: a description Kolodko can agree with. 'Guerrilla artists are like partisans,' he says with a smile. He thinks it takes too long to get permission. In addition, the artworks are so small that they fit anywhere.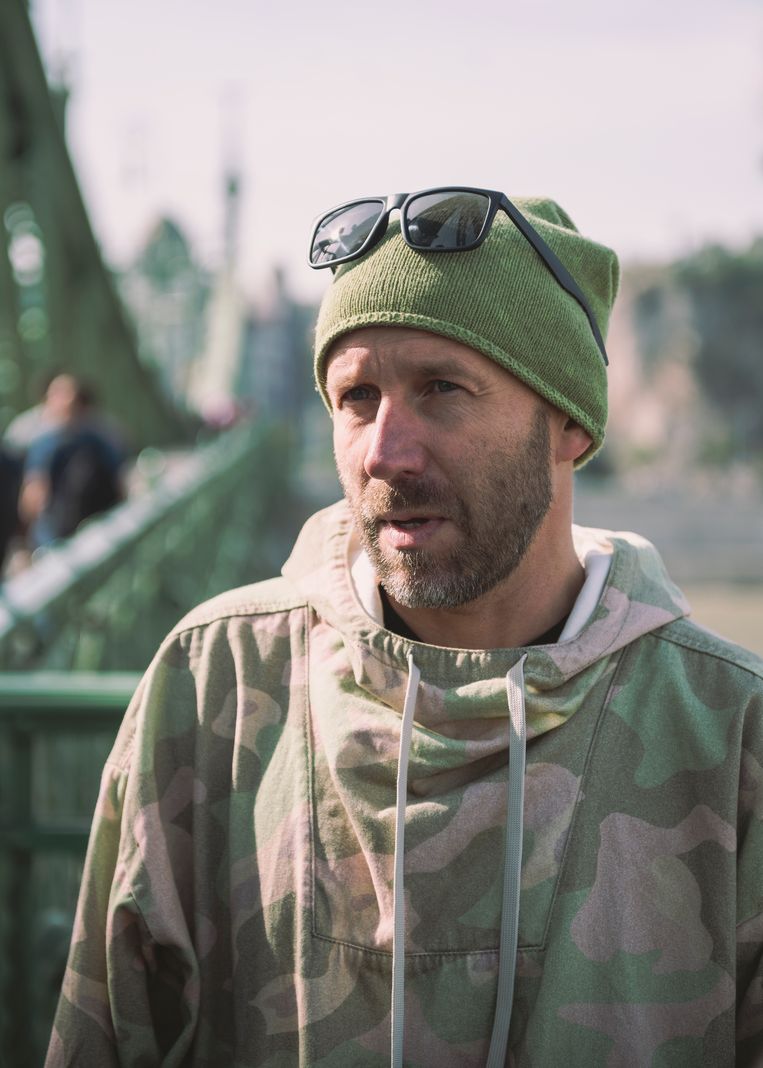 That is one of the reasons why Kolodko, who is trained in sculpture at the Lviv Academy of Art, works precisely on this scale. 'All seats and large seats are already occupied.' It is also much cheaper. Smaller statues are also closer to the inhabitants of the Hungarian capital, says Kolodko. 'Great monuments tower over you on their plinths, they are so far away from you.' Another way to shorten the distance is humor. Kolodko's work lacks the marble seriousness of long-dead men, his figures are full of jokes and references to popular culture.
His work is also influenced by current events. It has become grimmer since the Russian invasion of Ukraine. "It was impossible for me to work for the first few weeks," Kolodko says in his studio, a basement in the Pest district. It's a cozy underground space filled with bronze statues, photos and clay models of work in progress. 'The ideas I had and the images I was working on gave no comfort. What good is it to people, I wondered.'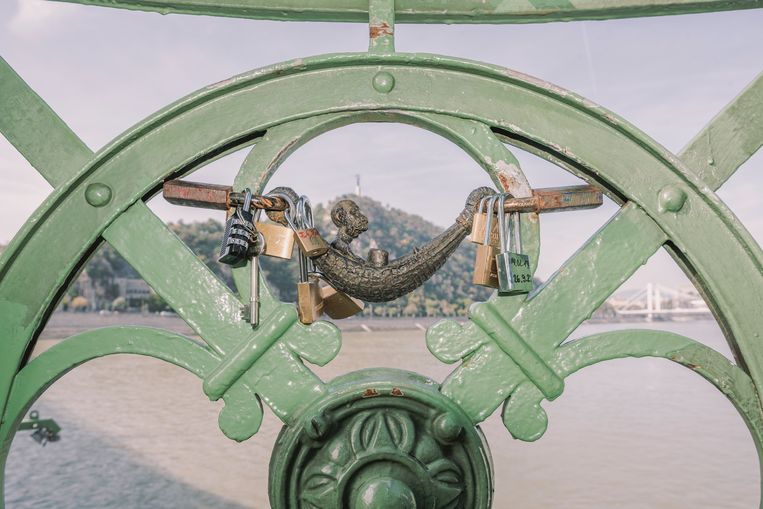 A small but symbolic event in the war drew Kolodko out of the cave. "I heard the story of a Ukrainian soldier on Snake Island saying, 'Russian warship, drop dead'." The incident took place on the first day of the war and quickly became legendary: the Ukrainian postal company even made it a popular stamp. Kolodko went wrong and made a small warship with Putin's head on it. He placed it on a stone pillar, which on closer inspection turns out to be a large middle finger. At the bottom you see the Ukrainian trident.
Kolodko prefers to speak Ukrainian, but is also fluent in Hungarian. "A gift from my grandmother." Kolodko's grandmother belonged to the Hungarian minority in Ukraine, the artist grew up in western Uzhhorod. In 2016, he moved to Budapest because the political tensions in his country became too much for him. He takes a statuette from a shelf in his study: a map of Ukraine, checkered like a chocolate bar. "It felt like everyone wanted to tear down a piece of my land." Due to the Russian invasion, Ukraine is back in business.
The empty larder with the evil soldier refers to a Hungarian cult film with the famous line: 'The Russians are already in the larder!' That's why the cupboard is empty, says Kolodko. "If you let them in, they'll take everything." Behind the soldier is a comfortable Hungarian chair, a reference to the way the Hungarian government rolls out the red carpet for Russian interests. Another thing that stands out about Kolodko's latest statues: they are one of the few critical comments on the war in the Hungarian public space.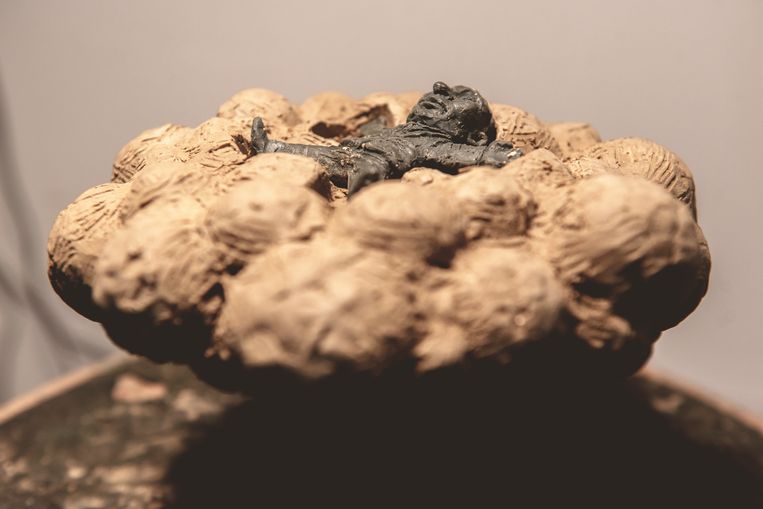 We can expect more of that for the time being, as our visit to his studio in October shows. Kolodko shows off his latest idea on his phone. A cutscene: black-and-white footage of a statue of Stalin in central Budapest, followed by what remains of it after Hungarian rebels pulled it off its pedestal during the 1956 revolution – just two boots.
Kolodko will put two boots with protruding bones and a skateboard next to them in the place where the statue of Stalin used to stand (on October 23, the day when the Hungarian uprising is commemorated, Kolodko placed the statue, red.). That Hungary is so pro-Russian when it sparked a mass uprising against Russia almost 70 years ago is a mystery to some. Kolodko has no answers either. "It's for journalists. I have my art.'
Like many artists, Kolodko is reluctant to interpret his work as something political. But with the war, politics stormed unannounced into his art in recent months. It changes not only his work, but also himself, Kolodko says on the Freedom Bridge over the Danube, where one of his oldest statues hangs: a rogue Habsburg emperor Franz Joseph I in a hammock.
'When I look back at my work over the last few years, I sometimes think it's childish, too entertaining. The war in Ukraine is about fundamental issues: the desire for independence and the fight for freedom. That fire also burns in my soul.' Despite the seriousness of the situation, humor remains important. Back in the studio, another idea awaits: a large mushroom cloud from a nuclear explosion. On top of the cloud is a blissful Putin making snow angels.
Wandering for hours looking for the perfect spot

There are about thirty mini-statues of Kolodko in Budapest. He always works on several projects at the same time, says the artist. "I'll be kicking around some ideas for weeks at first." Then suddenly, like a camera lens focusing, an idea takes shape and he sets to work. But he won't complete the mini-statue until he finds the perfect spot in the streets of Budapest. 'Sometimes I wander through the city for hours looking for the right location.' His work can also be followed on Instagram.