Publisher Marije Sietsma celebrates the third anniversary of her Cockroach series with the hundredth title: Let's read. 'Once you are captivated by such a book, you send it to others.'
The interior has sixteen pages and comes in six categories: literature, poetry, youth, culinary, music and growth. After a year of 'unheard of small jobs', Marije Sietsma (44) from the one-man publisher Loopvis celebrated the opening of her new business premises opposite Arnhem Hovedbanegård and the publication of the hundredth Cockroach in the series of illustrated booklets she started. in 2019.
Suddenly they appeared in bookshops that autumn – windmills filled with works of art in their own right. For the gift, or to send as a deluxe card in subtly lacquered envelopes. Sustainably printed with vegetable ink on sustainable paper, bound with cahier stitch, with great care for the coloring of the illustrations and themes suitable for a heart under the belt, a congratulations, a thank you, consolation or inspiration.
So cockroaches. "Because they spread like vermin," explains Sietsma. "He who is captivated by such a book—'Oh, it's lovely!' – will send them to others. But especially as an ode to creativity. As a producer you earn less and less, subsidies are cut or removed, the climate is against us, there are setbacks after setbacks and yet we persist. Cockroaches are extremely resilient, and so are we creative creators."
Overwhelm stores

She knew: If I'm going to do this, I have to do it really well. "So I had these reels specially made in Belgium and immediately started with 32 titles at launch. Otherwise it will be so sick, then it's just not that. You have to overrun shops, and I immediately had fifty who went after such a mill. I delivered them everywhere myself, I picked them up with a friend's motorhome, I slept in campsites between the windmills. Delicious!"
And with the 32 titles, of which 6 fit per square of the mill, times 50 mills, she had a good foundation; she could say to the printer: this is sold and three months after delivery you will get your money. It involved crowdfunding and a private investor, but on December 31, 2019, she was able to pay the final bill. "I don't need to be at AKO, it's not for the cockroaches, they have to be sold by and for enthusiasts. And they are being seen and found more and more."
For each title, Sietsma pairs authors and illustrators, not necessarily household names. "What I'm good at is translating creative ideas onto paper and finding the right people for it. It is not like an ordinary publishing house, where you come in with the idea for a book. Sometimes I have text that I'm looking for an illustrator for, then I'm looking for a writer for a beautiful image. It should not be a 'talking picture', text and picture should form a story together. I want it to go deeper."
sloshing armpits

Beginners can show her what they can do. She has collaborated with art academies right from the beginning. "Whoever is published gets both the credits and gets paid. But I've also learned that you can ask people you admire. At first I sent emails with flailing armpits: 'I have a wild plan, but it's very nicely written and you have a lot of freedom.' They often say yes. For writers, it's a fun, well-defined task. And for renowned illustrators who are known for a certain style, it's nice that they can experiment with something different here, that they can play that one tune."
All titles still in stock are only for sale in the in-house store. "The circulation is now 3,000 per Cockroach. At first I was still printing, but now it's really supposed to stop. What was left, a poem by Ingmar Heytze, illustrated by Maartje Jansen, was very popular and is now sold out. For commercial reasons, it may be foolish not to print. I'm getting a little complicated again for the bookstore. But the booklets are numbered, you have people who save them. They call: protect me and love me. And not everything has to be available all the time."
[Tekst loopt door onder het filmpje]
the hundredth part, Let's read, is illustrated by Floor Rieder and contains new poetry by Gerda Blees, Dennis Gaens, Koos Meinderts, Joost Oomen and Vrouwkje Tuinman. Every tenth booklet – a collector's item – is sewn with gold thread. "They say poetry doesn't sell well, but I have 20,000 cockroaches with new poetry. The real poetry lover may find them too frivolous. But I sneak up on you in a way that people dare too. And of course it's fantastic if, after reading a Cockroach, someone thinks: now I have to buy the collection of poems by Vrouwkje Tuinman too."
Let's read, text: Gerda Blees, Dennis Gaens, Koos Meinderts, Joost Oomen and Vrouwkje Tuinman, photo: Floor Rieder. Theme: hunger for reading. Category: poetry. Number in series: 22. €6.99. Also available via https://www.nozelheden.nl/c-4889565/kakkerlakjes/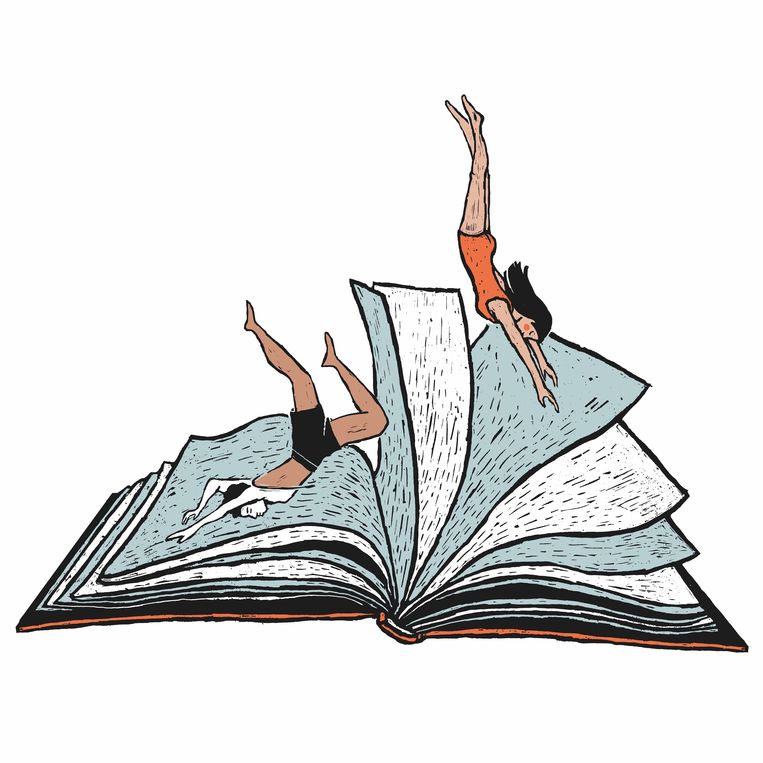 Sales addresses in Amsterdam: Amsterdam bookstore, The new bookstore, Duikelman, Hoogstins, Island Boekholt, Java Bookstore, Planet Happy, Linnaeus Bookstore, Over the water, Scheltema, Van Rossum