"You can't see the gallery in its full glory now," apologizes Koen Nieuwendijk as he deftly slaloms between dozens of wooden boxes. This interview takes place three weeks before the opening of PAN, but the 81-year-old owner of Lieve Hemel is already in 'exhibition mode'. "I have forbidden myself to work all night. I used to do that in the run-up to the fair, and then I was dead tired at my stand at the opening."
In 2022, Nieuwendijk is comfortably ahead of schedule. The bios of the participating artists have been drawn up, a nice brochure has been printed and all packaging is ready for transport. Nieuwendijk now knows very well what he is doing and at what pace. He is the only PAN exhibitor who has been with us from the beginning and has lived through all 35 editions.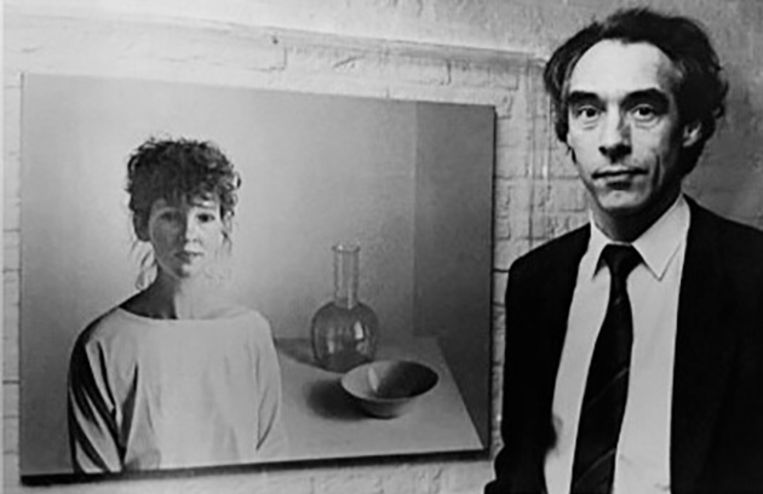 By the time he took part in the very first PAN Amsterdam in 1987, Nieuwendijk was already a veteran. His gallery dates back almost two decades. "Lieve Hemel would not have been there without my then-wife Ankie Hagendoorn," he says. "She was an artist and had 100 meters of textile left over from a design job for the theatre. She turned it into creations and asked me to sell them."
"We lived in a gabled house in Sint Jorisstraat, and I started the gallery in the basement in 1968. It was tiny, less than 10 square meters, and you couldn't even stand upright between the beams. Ankie came up with the name Lieve Hemel, a corruption of the curse that often sounded when someone hit his head."
The name remained when the gallery moved to Vijzelgracht and later to Nieuwe Spiegelstraat. However, the showroom grew faster than the commercial success. "Most gallerists are idealists and minor sellers. Me too," admits Nieuwendijk. "To make some extra money I hauled antique tiles all over the Netherlands for years. From Leeuwarden to Maastricht and from Alkmaar to Eindhoven. All with a flatbed truck where I put up a tarpaulin in the summer so we could go on holiday to France."
Wedding rings

With the idea of ​​appealing to a wider audience, Nieuwendijk expanded the range in the gallery. In addition to art, in the early years he sold wedding rings and later also large silverware from goldsmiths from Schoonhoven. "A very mixed bag," he calls it.
But the emphasis was on art from the beginning, to be precise: realistic painting that requires a lot of traditional knowledge and skill. In the heyday of minimalism and formal abstraction, this genre was not very popular, to say the least. Critics considered realism conservative and sometimes downright wrong, having been favored by the Nazis. "It makes no sense to hang styles on political preferences," says Nieuwendijk. "I used to find the negative reactions to realistic painting very irritating, but I refuse to be angry about it today."
And while his realistic orientation has resulted in the gallerist having the necessary rejection letters from fairs. "Without any real arguments, I was left out. But I've been around long enough to know that many stock markets go through a cycle. They start out broad, then a small group comes to power that wants to narrow, and after a few years the admission criteria are relaxed again."
Strong protest

"PAN has never gone through such a cycle, but at some point an inspection committee was set up and traditional realistic art threatened to disappear. I and others have strongly objected to this. Realism may not be innovative, whatever that means, but it is nonsense to say that it is a repetition of old art."
"If you see the work of Hendrick Brandtsoen or Bernard Verkaaik next to Willem Claesz. Heda says it is clear at a glance which influences come from past centuries and which are contemporary. For many buyers, realism is also the beginning of their collecting career: without realism there is no appreciation of other styles and genres."
Nieuwendijk appreciates that this discussion has always been possible at PAN. He increasingly needs the grant to sell his art. After September 11, fewer and fewer Americans and other foreigners came to the Spiegelkwartier, and he canceled the lease of his gallery there. He turned his warehouse space in a business park in the West into an exhibition space.
"I have more square meters here, and how many Amsterdam galleries can say they have parking in front of the door? But the amount is no longer what it used to be. I have also experienced that at an exhibition of new work by Theo Voorzaat the audience was already on the pavement the night before the opening, which can be compared to a pop concert."