At Red Devils Thomas Meunier and Youri Tieleman's press conference, it was mainly about one topic: FIFA's decision not to allow the OneLove captain's band anyway. 'It's unfortunate. But it is too late to start protesting now,' said Meunier.
The first questions Meunier and Tielemans were presented with in Abu Samra, Qatar, were not about sports. The Captain of the Devils will not be playing with a OneLove captain's armband against Canada on Wednesday night and the word 'Love' will also be removed from the Belgians' white away shirts. "The rules here in Qatar are different from the European rules. It's a different culture. We have to accept that," Meunier said.
According to the Dortmund player, there is nothing that can be done about Fifa's delayed decision: "If we wanted to be completely correct, we should not have come to Qatar. If the federation had said that we did not want to go to the WC, I would have accepted it. Personally, I never hesitated to come to Qatar, because I have spent many years at PSG (which is in Qatari hands, ed.) played. So I knew the situation all too well. Everyone is here now and we have to accept the situation. It is too late. In that respect, it's a smart move by FIFA. There is simply no time left to protest. And then it's time for us to focus on football.'
Tielemans: 'Players should not be punished'
Nevertheless, Tielemans also had to return to the FIFA decision. The midfielder finds it difficult to understand why OneLove's captain's armband should not be worn. "That decision surprised everyone but now we can only accept it," said the Leicester player.
Tielemans thinks it's a shame, because it would have been a nice signal for the lgbti community to wear the band. "It's a shame, because it's a global fight against discrimination. The decision was made at the last minute. We as players are threatening to incur a ban, and it shouldn't be. Nobody wants to risk getting a yellow card.'
Meunier's injury is progressing well
In the exhibition match against Egypt on Friday night, Meunier celebrated his comeback from a broken cheekbone in Dortmund. The right wing-back was allowed to come on for captain Eden Hazard after 71 minutes and thus took his first minutes in around a month.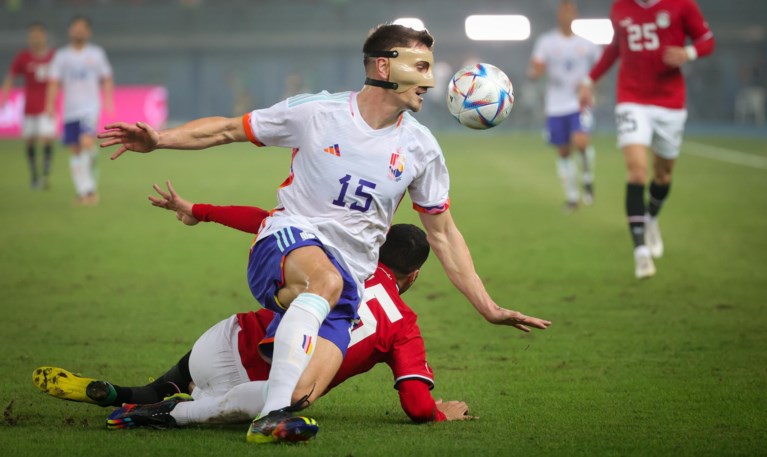 Yet Meunier was suddenly absent from the first group training session in Qatar on Sunday. 'Yesterday/Sunday I met Romelu (Lukaku, ed.) trained individually', explained Meunier. 'After all, I had an appointment at the hospital for my cheekbone, no more than a check-up. The injury is progressing well so I'm not worried about it. The first two games I will play with a mask. I am only five weeks into recovery and will have to wear the mask for six weeks. Physically, I'm fine, because I've always continued to train.'
Meanwhile, the match against Canada is fast approaching. The duel against the Canadians will not be a walk in the park. They have a dangerous front line, with Jonathan David, Tajon Buchanan and especially Alphonso Davies. The latter is ready to play and is expected to kick off. Davies plays on the left and will therefore face Meunier a few times. "Of course I know him well from the Bundesliga. Canada has a good generation with many players operating in Europe. The most important thing is not to underestimate them.'
Extra competition for Tielemans
With Amadou Onana in the selection, extra competition has suddenly appeared for Tielemans, centrally in midfield. The Everton revelation is an option alongside Axel Witsel if a bit more defensive security needs to be built in. Hans Vanaken kicked off against Egypt. 'Hans is a really good player who has made great progress in recent years. He is the pinnacle of Belgian football and has won the Golden Boot several times. He has also taken steps in the national team, he has become an important player. It is up to the coach to make the decisions. You never know in advance, because he doesn't give the line-up. You need to be there when he needs you. You can say that there is competition. It is also normal if you look at the qualities in this group.'