On Saturday 19 November, the tenants of the second Sociale Plads in Tiel organized an open day. Many The residents of Tielen took the opportunity to take a look in front and behind the scenes at the charities Klesteo Clothing and Toys Bank, the Food Bank and the Schuldhulpmaatjes project. Many visitors were surprised by the professional organization, the enthusiasm of the volunteers and the neat interior.
Photo album below the text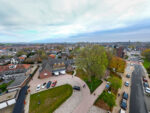 It is not a good sign that more and more people from the region are using it should of the three organizations. But more than ever, they are desperately needed. When you arrive, you immediately notice the nicely landscaped and well-maintained outdoor area. That inthe corridor of the former Christian Mavo is now located on the Grotebrugse Grintweg and the exit on the Medelsestraat. This is safe and minimizes inconvenience to local residents.
Clesteo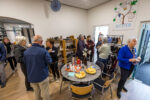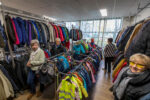 I am welcomed into the building by Margreet, who spontaneously offers to tell me more about Klesteo and show me around. It all looks nice. The wide range for children and adults is distributed among various former classrooms, neatly arranged in shelves according to type and size. There are also a lot of toys. But there are also shoes, jewellery, linen and other accessories and small items that you need to run a household. When shopping, privacy plays an important role. Margreet says: "Everyone who belongs to the target group can come here twice a year get something. Everything is free. We make an agreement with each customer so that only one customer or family is present in the retail areas at a time. People like that. Customers who come in for the first time find it quite exciting. But almost everyone goes home with a good feeling. You can try on all the clothes here, and of course we can give advice. People with a valid passport to the food bank can collect things from us twice a year without formalities. Others require a referral from the municipality or a social organisation. Our website, clothingbanktiel-eo.nl, explains exactly how it works."
The Food Bank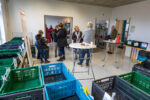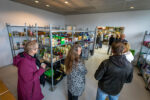 Next the spaces Klesteo uses are the food bank's shop premises and work and storage areas. Here it is Huib who shows me around and tells me about the sequence of events. Huib: "We are very happy with this place, which we can rent for at least ten years. We had to move several times over the years. It took a lot of time and energy. The space here is not much bigger than we had before, but we have a much more practical layout. We are very satisfied. Our work area is larger than Tiel municipality. The head office is in Tiel, but we also have support centers in Geldermalsen, Culemborg and Beneden-Leuwen. Our goal is to alleviate poverty and thereby prevent food waste. In total, we are currently making 135 families, a total of 350 people, happy every week with a free varied lunch package. In Tiel, where most people come to collect their food on Fridays, we do not work with met ready-made packages, but our customers can shop themselves." Huib shows off the store, which looks a lot like a small supermarket with all kinds of non-perishable goods. Instead of prices in euros, you will find cards on the shelves with the number of points an item costs. Usually it is one or two points. Depending on the size of the family, customers receive a number of points each week that they can 'pay' for the products they have chosen themselves. In addition, everyone gets another portion of vegetables, fruit and meat, based on the size of the family. Huib: "So far we have been able to get enough products from good onese collect quality. Individuals and companies bring their own goods, the churches collect goods during the weekly services and we have a large number of supermarkets and wholesalers that we can visit every week. We work with a team of around forty volunteers who find it fun and rewarding work."
DebtHelpBuddy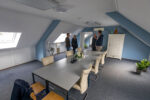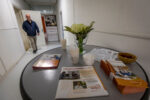 On the first floor we meet Alice van de Pol, treasurer on the board of SchuldHulpMaatje Fonden, who leads the debt help friends project for the residents of Tiel municipality. She also speaks at length about the purpose of the Debt Relief Friends and the necessity of this organization. We will make a separate contribution about this project soon.
All social organizations that now use the former school are happy and grateful for the initiative of Stichting Sociale Plein Tiel to buy the former school. With the help of a lot of self-activity and numerous sponsors, this has been refurbished by the foundation and made suitable for the three organisations. These rent the spaces at a very friendly price. More information about Stichting Sociale Plein Tiel can be found at socialepleintiel.nl.
Photo album:
See also the point about commissioning: https://detielenaar.nl/nieuws/2022/05/eerste-mijlpaal-voor-sociaal-plein-2-tiel/