The wonderful evening can also be celebrated vegan, with sweets without animal ingredients. But which varieties are the tastiest? A pilot test with a child and an adult panel.
Liv Persson (12) has eaten vegetarian for three years because she thinks it's pathetic to eat animals. She might also like to eat vegan, but it seems very difficult for her. It's actually not easy. Especially if you're still growing, it's pretty complicated to eat all the nutrients you need every day without meat and dairy. But why make it difficult for yourself right away? Take candy, something that we can hardly ignore around Sinterklaas and Christmas. And something that unnoticed contains more animals than you might think. You don't eat candy because you have to grow, so with plant-based candy it's good for Sinterklaas and Santa Claus to score well with meat and milkweed in their hats.
For V, Liv and her friends Maxien Beukeboom and Pim Scheers (both also 12) taste a huge mountain of vegan sweets, which are divided into the categories spiced nuts and chocolate spiced nuts, marzipan, chocolate letters and various Sinterklaas candies. As a reference for 'adult taste' get a day later Volkskranteditors Evelien van Veen (final editor V), Ashwant Nandram (economics) and Life's mother Anne van Driel (chief Saturday and Opinion) presented the same candy package.
Gingerbread buttons

If the dough for cloves is not made with milk, it is usually vegan. But still be careful because some brands still contain milk powder or whey powder. The vegan test pack consists of six brands of spice nuts. All categories include products from Het Zaanse Bakkertje from Zaandijk, which sells special vegan Sintsmul bags (€26) with allspice nuts, ginger nuts, filled gingerbread, almond bar, brisket plate and marzipan.
The three first classes attack the spices with good intentions. "We don't say if it's dirty, but how it tastes. Then people can decide for themselves whether they want it.' A bit left of their intentions even at number 1 (they taste from numbered containers and don't know what brand it is). Your Nature Organics spelled nuts look ghastly and pale, as if they were not baked properly; they are flat and dry and very dirty with strange spices. 'Don't eat!', is the explicit advice from the candy trio. The vegan and gluten-free ginger nuts based on teff flour from Holland & Barrett are also not a success (hard, mealy, taste as if the bag has been open all night), the nuts from organic bakery Van der Westen (available via Ekoplaza ) are dry and tasteless, and the spice notes of wheat flour from Your Nature Organic taste earthy and have a rough texture.
They like this: 'normal spice nuts', which are nice round, nice crunchy, easy to chew and don't have too much of a spicy aftertaste. At the top, they put the spices from Het Zaanse Bakkertje, followed by Bolletje spices and the spices 'Altid en fest' from Hema. It is striking that it is not much different in team Senior. They also fall head over heels for Bolletje: a delicious classic spicy nut. Het Zaanse Bakkertje and the wheat spice nuts from Your Nature Organic ended up in joint second place – the 'nice peppery and spicy taste' appealed to the adults.
The ginger nuts from Het Zaanse Bakkertje (at the time of purchase there were no vegan ginger nuts and gingerbread in the supermarkets yet) are received mixed in both teams. For one it may not be enough anise, for the other it is too much licorice. Team Junior praises the fine cake-like structure ('like a pastry'), while Team Senior misses the slightly sticky sensation in the mouth.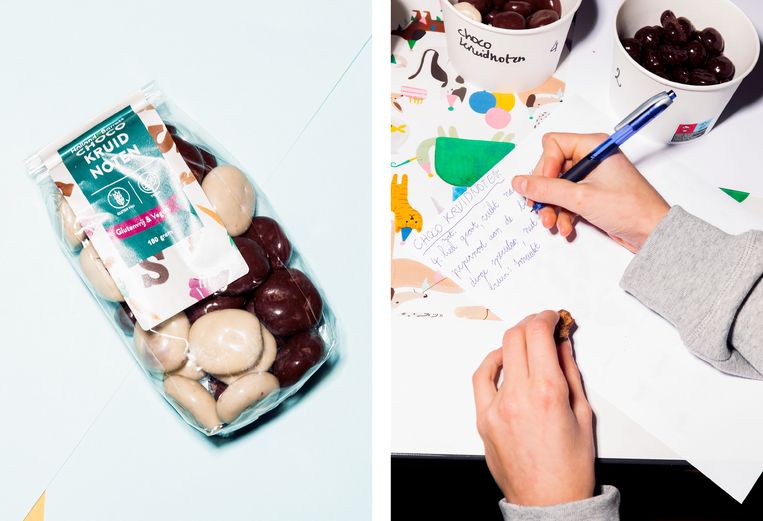 Chocolate spice nuts

Of all the chocolate covered nuts, few are suitable for vegans because most contain some milk protein. Bonvita from Tiel and Holland & Barrett make organic vegan rice milk chocolate and sell bags of mixed white and brown gluten-free chocolate spice nuts. Bonvita also makes spiced nuts with dark chocolate, as does Happy Chocolate from Ekoplaza.
Here, too, the verdict on Holland & Barrett's nuts is damning in both groups: the white ones are very sweet, chewy and taste as if they have expired, the brown ones taste too much of coffee. A problem that also occurs with Bonvita is that the cloves inside are very dry and sandy. 'Nausea', says Pim (Junior team). Evelien (Senior team) is very happy with Happy Chocolate: beautifully shiny, very tasty fondant-like, a bit of candy chocolate, but still ripe bitter. So this is exactly what they absolutely do not like in team Junior: looks like charcoal, very clean, so you don't taste the spice nut, and a hard inside.
Marzipan

Marzipan could easily be purely vegetable, but many manufacturers like to use E904 or shellac – made from the secretion of the female lac scale – for a glossy coating. What is also possible: that you just don't like marzipan, like two members of team Junior. Maxien doesn't dare, Pim bravely works his way through three brands of marzipan potatoes, tries a piece of marzipan with dark chocolate (yuck and yuck) from Schluckwerder, but finally gives up on the pink marzipan with walnuts from Het Zaanse Bakkertje. "This looks like organs with brains and flesh and tastes like tangerine and walnut. Blegh.' Liv saves the team's honor by pleasing Lidl's marzipan fruits: 'Looks nice with lots of colors and tastes exactly the same as regular marzipan. Very tasty!'
The shape is also exactly the reason why Evelien (Senior team) declares Lidl as a favourite, because 'marzipan should look like something else'. Perfect marzipan for the shoe, the team agrees. Anne chooses the Hema potatoes because of the almond flavor and bitterness, even though they are very sweet. Ashwant likes Schluckwerder's potatoes best.
Chocolate letters

Vegans needn't fear most dark chocolate. But that doesn't make many children happy. It is therefore hopeful that there are now also vegan milk chocolate letters. The three brands in the test are Bonvita, Holland & Barrett (white, 48 percent and 56 percent cocoa) and Hands Off My Chocolate (caramel sea salt and seriously dark, 85 percent). The latter is really a no-go for team Junior. Max makes a valiant effort: "Bitter. Bitter. Bitter. Brrrr.' The biggest horror seems to be the letter from Bonvita: it smells like a new car, it tastes chemical and like a headache. Maxie thinks the white chocolate from Holland & Barrett is deliciously creamy, and Liv and Pim are charmed by the caramel sea salt from Hands Off My Chocolate. "That salt, together with caramel and a slightly nutty aftertaste, is really nice," says Liv. The adults and children are not really different here either, they all choose the caramel sea salt.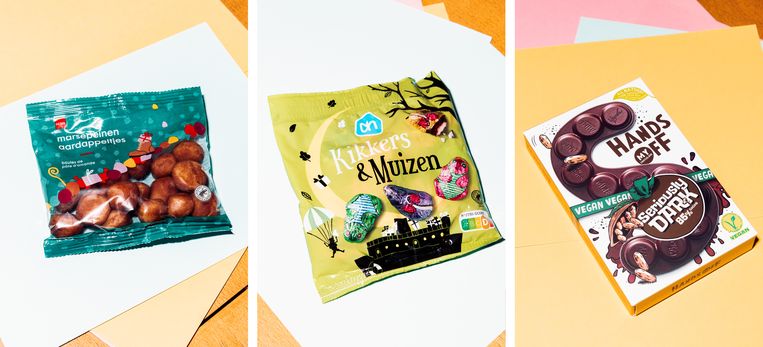 Various Sinterklaas candies

Sinterklaas' bag also contains all kinds of vegan sprinkles and sweets, which cannot be placed directly in a category. Chocolate frogs and mice, for example (from Hema and Albert Heijn), chocolate coins and chocolate saints. The latter is also from Bonvita and team Junior takes them out flawlessly like the same headache chocolate. Completely unknown, both to the Junior children's team and Ashwant from the Senior team, is the breast phenomenon. 'Oh, this is really good', says Maxien with the white variety, 'this really melts on my tongue.' Unfortunately, the brown variety just tastes a little too much of coffee. But they do not see this as a problem in team Senior. Very cute, that is.
Via the website gewoonsnoepgoed.nl, a lazy Sint can order a vegan package from Candy Freaks for 19.95 euros with three large cones of gelatin-free sweet and sour gummy mix, a bag of vegan marshmallows (these are not included) and a chocolate nut mix. The latter is definitely not a success (the nuts are too dry and unroasted, with the skin still on, the chocolate is not tasty). The teams have mixed feelings about the bags of mixed candy; the consistency is not always very good, some are tasty, others less so. But the gums go home immediately.
Team Junior is calling it a day here. "We're full of candy," they say, and through the pouring rain they run out onto the playground to dump all the sugar. The next day, Team Senior dutifully tastes another vegan almond bar from Van der Westen and one from Het Zaanse Bakkertje, plus a piece of stuffed gingerbread, also from Zaandijk. The food is very disappointing: it tastes grainy and old, the almond bar is head and shoulders above Van der Westens. 'Tasty, no difference with non-vegan.'
So it is possible: vegan candy that tastes like non-vegan candy and is 'just' tasty. Conversely, it works exactly the same. "I don't feel like we were eating vegan," Maxien says. "It was just ugly."
The favourites

Gingerbread buttons

Ball of cloves 200 g. €0.99
Zaanse bakery seasoning nuts 250 g.
Hema Always Feast Seasoning nuts 200 g. €0.90
Your Nature organic seasoning nuts 200 g. €1.99
Chocolate spice nuts

Happy chocolate chocolate spice nuts, dark 200 g. €3.59
almond bar

Zaan bakery
Marzipan

Lidl Favorina Marzipan fruit molds, 150g. (6×25) €1.79
Hema marzipan potatoes, 175 g. €2.30
Schluckwerder marzipan potatoes, 500 g. €4.49
Chocolate letters

Hands off caramel sea salt, 120 g. €3.19
Holland & Barrett white, 90 g. €2.33
Various Sinterklaas candies

Zaanse Bakkertje breast plate, 120 g
Candy Freaks sour gums, sugared
For this test, products that are sold as vegan and products that do not contain any animal ingredients but which, according to the manufacturer, may contain traces of eggs or milk were selected.