Vranckx

Canvas, 20:10
Sweden is known as a safe country, but the numbers contradict that. Last year there were 342 shootings, and this year the number of people killed by guns is already fifty. Drugs and gang violence are the culprits, according to the report i Vranckx, especially in neighborhoods where relatively many immigrants live. These incidents receive little attention in the Swedish press, but the populist right-wing Sweden Democrats link immigration and violence and win votes.
Stars on the canvas

NPO 2, 8.30 p.m
Author and presenter Daphne Deckers grew up in Persingen, the smallest village in the Netherlands with 105 inhabitants. In front of Stars on the canvas Özcan Akyol receives her at the church in the idyllic village. Deckers talks about her childhood on the farm and fondly remembers her father, who died in 2018. While Akyol interviews her, three artists paint the former photo model. Deckers must take a portrait with him, the others will be auctioned off for charity.
Now on view!

NPO 2, 21.12
Museum Kranenburgh in Bergen puts interesting and multi-talented Dutch visual artists in the spotlight. Until April, visitors can visit the exhibition 'Jeroen Henneman – The life of things', where Suzanne Swarts today takes a look at Now on view!. Since the 1960s, Jeroen Henneman has worked on an oeuvre of sculptures, paintings and illustrations that do not fit into any genre. Much of his work has found a place in the public space.
Karen Pirie

NPO 2, 23:09
A podcast brings up the unsolved murder of Rosie Duff. This young bar girl was found dead 25 years ago in St. Andrews, Scotland. The police put detective Karen Pirie (Lauren Lyle) on this cold case. She takes another look at the suspects from back then – three students – and discovers that Rosie was hiding a secret. The new crime series Karen Pirie is based on the book The distant echo by Val McDermid, her first of six about Detective Pirie.
Ventoux

NPO 3, 23.50
(Drama, Nicole van Kilsdonk, 2015) It looks like a book adaptation, but Nicole van Kilsdonk is nonetheless Ventoux not really. The relationship between the film and the bestseller of Volkskrantcolumnist Bert Wagendorp is more complicated. In 2007 Van Kilsdonk Saddle pain, about a group of friends cycling through Normandy. Van Kilsdonk wanted to recreate something like that, but with men. She asked Wagendorp, who finished his novel before the film could be realized. The film and book are actually two alternative versions of the same story, about four cyclists in their fifties who come to terms with old pains on Mont Ventoux.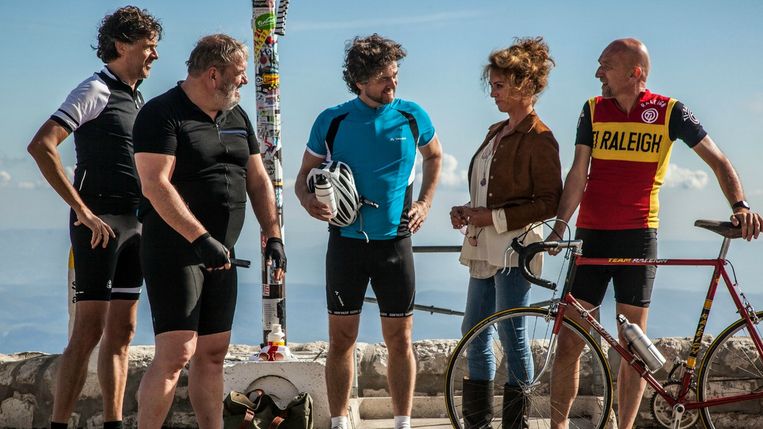 Rosemary's baby

Canvas, 11:50 p.m
(Horror, Roman Polanski, 1968) In this horror masterpiece, it is primarily the camerawork and the sound that contribute to the audience's increasingly uneasy feeling. And that while it all starts so quiet and (literally) pink – the opening titles are that color, the music sounds like that. The young couple Guy (John Cassavetes) and Rosemary (Mia Farrow) are in love and move into a beautiful apartment in the heart of Manhattan. When Rosemary is pregnant, after an inexplicably terrifying night where she thought she was half asleep and half awake, things take an irreversible turn. Is that turn a result of her unstable mental state, or are there truly dark forces at work?
The conversation

BBC2, at 02.00
(Thriller, Francis Ford Coppola, 1974) Stylish, deeply insidious paranoia thriller. Gene Hackman stars as eavesdropping expert Harry Caul, tasked with spying on a man and woman walking together through a busy square. As he later mixes the various recordings of the conversation in his studio, he becomes obsessed with the possible meanings he can give the conversation. Are the lovers saying 'he would kill us if he had the chance' or does it sound more like 'he would kill us if he had the chance'?