December is usually the month of fun productions in operaland. A champagne aria: delicious! Grandchildren: do it! Even though Turandot, the gruesome Chinese fairy-tale opera by Giacomo Puccini, has dazzling scenes in many a staging. With bonus of course Nessun dorma ('No one will sleep'), the goosebumps aria that, after its premiere in 1926, became a playground for all and half Pavarottis.
Colorful, vibrant and cozy? It does there Turandot at the National Opera in Amsterdam. With the exception of one colorful scene, director Barrie Kosky dips the drama into charcoal gray. Lovers of colorful cinema series, fans of Puccini with a sob and a tear: you have no business here. But the paradox: precisely because of the visual gloom, the music knocks you out at times.
Ninety choristers roam the stage like zombies at a performance. Puccini had conceived them as soldiers, standard bearers, maids, priests, mandarins, boys, musicians, executioners and ghosts. In Beijing they see how prince after prince puts his head on the chopping block. Whoever wants to marry the emperor's daughter Turandot must solve three riddles. Failure to do so will result in torture and beheading. But suddenly there is the unstoppable Prince Calaf.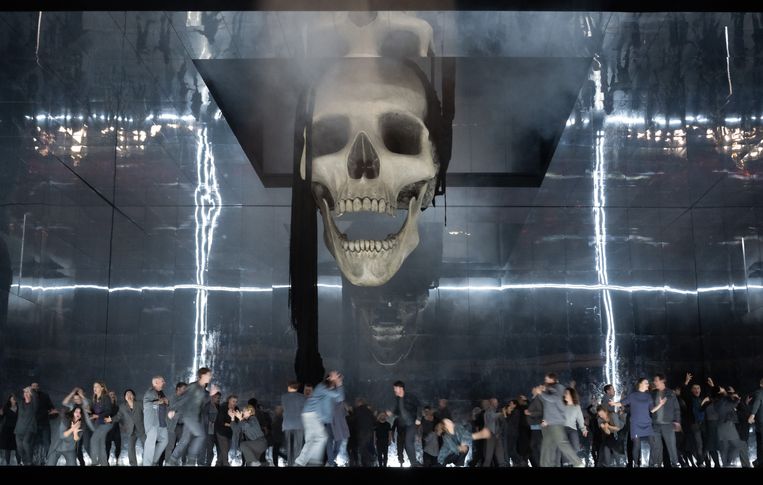 Director Kosky rightly sees cardboard figures in Puccini's characters. He could have chosen an approach that seems like an artistic duty in recent years: admonishing Puccini to introduce "a young slave girl". This Liù sacrifices himself for love. Or Kosky could have lit the stove with the Chinese melodies Puccini sells. Appropriation, maestro!
Kosky parks Orientalism and colonialism in the orchestra pit. On stage, he replaces the Chinese rimram with a world of black and gray. A cult-like people vegetate there. They throw skulls and worship death. Turandot remains invisible, at most during a séance she descends briefly as a skull. Kosky shapes Puccini's princes into religiously affected princes. Those who see the light, the smoke is coming out of their sleeves. Unfortunately portee of Kosky's zombieTurandot not clear.
And then the wide stage space. Ideal, of course, for setting up a mass choir in eye-catching formations. But the solo singers are lost, also acoustically. The sound of Kristina Mkhitaryan (Liù) keeps at a distance. The voice of Najmiddin Mavlyanov (Calaf) blows away. Only Tamara Wilson fills the room: as Turandot, she sends her clear voice from a bridge of light into the room.
In the vague realm, choir and orchestra take their chance. No matter how loud the choristers blare, their sound remains beautifully open. No matter how softly you sing, the sound crosses the hall. And with the New Amsterdam Children's Choir, a December feeling emerges from the wings.
But the biggest surprise comes from the orchestra pit. Thanks to the Chinaless staging, the conductor Lorenzo Viotti can shed new light on the score. Suddenly, the Chinese gongs and the xylophone, with which Puccini added oriental color in the 1920s, sound not folkloric but experimental. And what courage to turn off the choir and orchestra so vulnerable at the end of Liù's mourning chorus.
Puccini had reached this point when he died in 1924. Franco Alfano completed the opera; in 2001, Luciano Berio also took a shot. Barrie Kosky leaves it for what it is. Not for nothing did Puccini get stuck when he arrived at the unlikely embrace of Turandot and Calaf.
The one famous aria, Nessun dorma, it also takes on an enchanting shine. The mirrored ceiling above Prince Calaf slopes downward, Najmiddin Mavlyanov's voice suddenly echoes. Yellow and red flowers appear, dancers form flower figures. And with such tender music about love and hope, every thought evaporates.
Kill your loved ones

How Puccini caught himself with a well-intentioned intervention.
The story of the cruel Chinese princess Turandokht (Turandot) dates back to medieval Persia. In the 18th century it was picked up by the Venetian playwright Carlo Gozzi. He adds comic characters from commedia dell'arte, where Puccini melts into the ministers Ping, Pang and Pong. Friedrich Schiller, the German playwright, is also involved in the material. In 1802 he folds Turandot into a woman who values ​​her independence at all costs ('I am not cruel. I only want to live free').
To express something of his specialty, the compelling love, Puccini smuggles in the character Liù. She is so captivated by Calaf that she sacrifices her life for him. This intervention saddles Puccini with a problem that he cannot solve. After Liù's painful stage death, he fails to make a convincing turn for a tumultuous love duet between Turandot and Calaf.
Turandot
by Giacomo Puccini. By the choir of the National Opera, the Nieuw Amsterdam Kinderkoor and the Netherlands Philharmonic Orchestra, conducted by Lorenzo Viotti. Directed by Barry Kosky.
Opera
★★★☆☆
2/12, Dutch National Opera & Ballet, Amsterdam. Performances until 30/12 (partly with other soloists).