Sociologist Rudi Laermans and (legal) philosopher Laurent de Sutter will soon shed their light in Bozar on cultural Brussels, which is competing for the title of European Capital of Culture in 2030. "Reducing culture to some local animation to restore our social fabric is not downright ambitious."
Sociologist, born in 1957, was affiliated with KU Leuven, headed the Center for Cultural Sociology
Taught in dance school DELE
As a critic and theorist, he closely follows contemporary art and contemporary dance in particular
Recently published Little lexicon of management jargon, I, we, them. Sociological guideposts for our times and shared fears. Little sociology about social insecurity
Who is Laurent de Sutter?
Born in 1977
Philosopher of law, associated with VUB and Science-Po in Paris
Started as a contributor to the rock magazine RifRaf, and wrote for a long time for Focus/LeVif
As a publisher active as an editor for the Parisian publisher Puf and the Theory Redux series at the London publisher Polity
Recently published Narco-capitalism, Eloge du Danger and Pour en finir avec soi-même
When the Brussels thinkers meet for this conversation in the Café Victor in Bozar, they immediately eagerly exchange books and give each other reading tips. Letting ideas collide and then reorganizing them is daily business for both men.
Dutch-speaking Brussels native Rudi Laermans recently retired as professor of sociology at KU Leuven, but his essays have only just been published. I, we, them, about the pain points of our individualized society, and Common fear, about the societal dimensions of our individual fears. Laermans also writes about cultural politics and is also an art critic. Laurent de Sutter therefore calls him – here we go – "the official theorist of the revolution in Belgian contemporary dance in the 1980s and 1990s".
Legal philosopher De Sutter, started as a reviewer for the rock magazine Riff Riff, was once labeled a 'pop philosopher'. He therefore leaves few subjects untouched: eroticism, drugs, architecture, Greta Thunberg, legal anarchy: De Sutter has theories about it. And if he does Praise you Danger have about our dealings with 'danger' in our hyper-secured and -insured society, or i Pour en finir avec soi-même about our ego culture, he automatically steps into the territory of his valued colleague. Hence the exchange of these books.
Mr. De Sutter, you wrote about fear and danger. Artists recently got more than their share of it, in times of covid, populism and cultural cuts. This sometimes made them political actors.
Laurent deSutter: Yes, in parts of the political world and in public opinion, the idea has taken hold that artists are worthless unemployed profiteers. How should artists deal with this? Of course, I can't force that on them. I can say, however, that the artists' political engagement – ​​think for example of Hito Steyerl (German visual artist who withdrew his work from Documenta 15 in Kassel after an anti-Semitism riot at the art festival, ed.) – does. not replace their art.
It is important to remember that art brings transformation in the very long term. At the sum of individual confrontations of people with works of art. This 'tectonic' takes place very slowly, and is very different from the political struggle that takes place in the streets and in the media through protest groups and alliances of artists.
Personally, I'd rather be confronted with a piece of art that forces me to change my ideas about capitalism, neoliberalism, patriarchy, or colonialism than one that simply says those things are bad. Because we don't need artists until the end.
Rudi Laermans: The domain of art is that of invention and the creation of new realities. I find it interesting when, for example in dance, I see new forms of life and new bodies appear on stage. Or new forms of togetherness and intimacy.
But the neoliberal model really forces artists into a complicated and perverse organizational matrix. On the one hand, they need to be more 'entrepreneurs' to raise their own resources, and on the other hand, they need to be more bureaucrats to be able to make all the grant and project applications. People are subject to the state and at the same time they have to compete with each other in the market.
It is interesting that as a result artists find other ways to organize themselves. For example, by creating collective, collaborative platforms. In Brussels, it is no coincidence that you mainly find them on the French-speaking side, because there is less money there. This is a good trend. To be sure, on the Flemish side there was an over-professionalization with an accompanying bureaucracy that also ran over the institutions.
IN Common fear are you talking about the 'social confidence' that can be an antidote to the neoliberal politics of fear. Do you recognize that in the collective artist platforms you just talked about?
Laermans: Indeed, you cannot create collectives without trust, and any harsh form of neoliberalism is a form of the politics of fear. It is not for nothing that with neoliberalism the dichotomy between winners and losers has been established. Neoliberal subsidy policies change the conscience of the artist, who begins to reason in terms of good and evil: am I a winner or a loser? It is hard.
We are also seeing more and more co-creation. Artist collectives, minority groups and the public take over space that individual directors used to occupy themselves. They dance, curate and debate together. Should we all be artists?
Laermans: I also think that people are more concerned with aesthetics, with a beautiful life in all senses of the word: a beautiful body, good food … In this sense, there has been an aesthetic revolution towards the sensual and the experience: 'less is more, because it pays off in aesthetics'.
In addition, there is indeed also a niche in art with an identitarian, post-colonial or social approach. Within a number of homes and institutions, by some critics and by some media, they are heralded as the new avant-garde. As if they translate our contemporary culture in the most contemporary way. Of course, that's not true. I also found the latest Documenta interesting, and I understand that as an institution you can't program everything, but you shouldn't hierarchize by talking about an avant-garde. Art remains a very diverse playing field.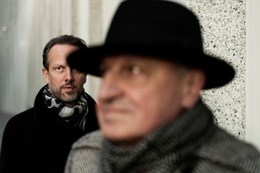 DeSutter: The German-Russian critic Boris Groys draws the conclusion that the world has become art thanks to our phone calls, because such a large amount of images and stories have never been created since the advent of social networks. Although of course there is also kitsch in between. In this connection, we must listen to Walter Benjamin's warning that we can end up in fascism if politics disappears behind aesthetics. Benjamin may have exaggerated, but art should not take the place of politics, where artists pretend to be involved in politics, while the real political decisions are simply made elsewhere. I want to start from art that can transform me.
Brussels is now an official candidate to become European Capital of Culture again in 2030. What would that mean?
Laermans: It might be a lame answer, but the most important ambition you can have is for Brussels to be the capital of culture every day. If that title is just an opportunity to make new community connections and generate funds, then you can call it little more than such an opportunity.
DeSutter: Which capital of culture do we want? That is the question. Are we going to mix in some vague projects with a commissioner who is not very transparently appointed, or will there be something visible and ambitious for the city in general? I would like to see an event like this create reflection. There is not yet a place in Brussels entirely devoted to ideas, debate and criticism. Like it Haus der Kulturen der Welt in Berlin, or Concrete salon In Paris. Brussels needs such a house of reflection.
The basic idea of ​​the Brussels 2030 team is not to develop prestige projects, but to strengthen the positive places and processes that are already present bottom-up. They want to involve the whole community in an open city project. Is it a good approach?
Laermans: Such an urban project is interesting, but it must be one that is well thought out. At the moment, urban policy is primarily about the multicultural city – the city as a meeting place with several public spaces – and the sustainable city. In line with social and environmental sustainability, there is a will for action and politics. But it is too little. How do you shape all that? Where is the aesthetic added value? Can we, for example, lead the discussion about the public space in a different way than just in relation to Good Move?
I'm all for Good Move, but it's a reduced discussion that ignores architecture and aesthetics. One can, for example, also ask whether an old industrial town should be re-industrialised. If you look at the world economy, it may turn out to be a wrong choice to focus everything on the small manufacturing industry and the creative economy and have no industry left. How do you remind a city after the logistics revolution to work from home? You need reflection for that.
Just like in the 1960s, many cultural projects must bring some life to a dead quarter. All fine, but then you work for politics and politicians who outsource their work to the cultural sector.
DeSutter: I would also like to comment on the idea of ​​'cultural humus' and local initiatives that aim to reach specific target groups and local communities. You cannot reduce culture to some local animation for the people to restore our social structure. It is very unambitious.
The ambition must be greater. There are a lot of interesting things happening in Brussels on a small and large scale. But what good are stories about culture and ecology, closeness, identity or care if the art doesn't also make you dream of another world? Art can change and uplift us.
Meet the thinkers: Rudi Laermans & Laurent de Sutter 12/12, 19.30, www.bozar.be