It was big news about four years ago: Marcel Duchamp's famous piss spot is not supposed to be from Duchamp's hand, but from his female colleague Elsa von Freytag-Loringhoven. Duchamp is said to have appropriated the artwork later in life. Elsa was already dead by then. Her name was soon forgotten, while Duchamp's reputation only grew. It is a typical example of the skewed relationship between men and women in the art world.
Over the centuries, many female artists have remained unknown. New 'discoveries' appear every now and then, like the French filmmaker Alice Guy-Blaché (1873-1968), about whom an American film is being made. It is believed that between 1896 and 1906, Guy-Blaché was the only female filmmaker, and she produced more than a thousand films. Why did she stay under the radar for so long? Maybe because she's a woman.
If you go further back in time, you come across women like Michaelina Wautier, who made exceptionally skilled paintings in the seventeenth century. But her work was often attributed to her brother. It was not until two centuries later – from 1850 onwards that a reassessment of her work began – that it was she who had painted the canvases.
Unequal pay
Even today, the inequality between men and women in the art world is still very much present. Female artists earn on average half as much as their male counterparts, according to recent research from ABN Amro and Women Inc. In 2018, a study by Mama Cash, a foundation for feminist activism, showed that only 13 percent of the collections in Dutch museums were made by a woman.
In recent years, more and more museums have become aware of the inequality between men and women in the art world and the need for change has arisen in various museums. This is how the Rijksmuseum started the program in 2021 Women from the Rijksmuseum. Efforts are being made to increase the visibility of women in the collection and museum presentation. The museum's first step was to permanently showcase women artists in the Hall of Fame. The exhibition is currently in the Rijksmuseum Women on paper extends over the museum's five printing rooms.
An androgynous person
The oldest works in the printing rooms are the engravings by Diana Mantuana (c.1547-1612), Barbara van den Broeck (c.1560-1631/36) and Magdalena de Passe (1600-1638). It is striking that all three were daughters of graphic artists. Youth work of the Italian Mantuana can be seen. Not all proportions are correct, but the engraving is powerful on the paper. There is also a very extensive print of Mantuana, with which she made her entrance in Rome, then the heart of art.
Magdalena de Passe stands out for her precision. She flawlessly knows how to give depth to her work against the background of light and dark. From the age of fourteen, De Passe began to sign her works, which shows her confidence. Most impressive are her prints depicting mythological stories based on Metamorphoses from Ovid. In one of the engravings, the amorous nymph Salmacis and Hermaphroditus splash together in a stream. Salmacis forces himself on the beautiful Hermaphroditus, after which they will merge into an androgynous person. All possible details are shown in the print. The forest in the background seems almost tangible, so precise.
How De Passe interpreted the myth itself is unknown, but the fusion of male and female seems appropriate in the context of the exhibition. De Passe dedicated the engraving to Jacob Cats, a sixteenth-century poet who wrote extensively about marital relations between men and women.
Daily scenes
A couple fighting each other, a woman with a baby on her breast looking at her husband with satisfaction, a group of people drinking and hanging out. While De Passe mostly creates biblical or mythological portraits, decades later Gesina ter Borch (1631-1690) mainly has an eye for everyday life. Ter Borch's work occupies a unique place because it gives an insight into the life of women in the 17th century. The sketches show a talent for capturing human interactions. Many of her sketches can be seen as watercolor drawings in her poetry album, also in the Rijksmuseum's collection.
Two centuries later, Käthe Kollwitz (1867-1945) creates the work Self portrait at the table (1893), an everyday scene of a completely different order. Kollwitz, incidentally one of the most famous female artists of the twentieth century, if only for her chilling pieta after the death of her son, has made the background pitch black. The hard etching lines show the artist himself. She sits at a table, somewhat defeated. An oil lamp burns to her right. The work breathes loneliness. Kollwitz made many self-portraits, which usually exude a melancholic mood. The self-portraits appear to be an examination of her own identity, as a woman, as a mother and as an artist.
Opportunities for women were limited until the mid-nineteenth century in terms of social, economic and artistic development. In 1870, women were admitted to Dutch art academies for the first time. These limitations are mentioned in the exhibit, but the information does not go much further in depth. How did women fare in these art academies in the nineteenth century? What prejudices did they face or what percentage of students were women in the late nineteenth century?
As a spectator, you can only guess at the answers. It is a missed opportunity, because the exhibition could have built a nice bridge between the past and the current gap between male and female artists. In fact, that bridge may be essential if we want to change our thinking patterns about women.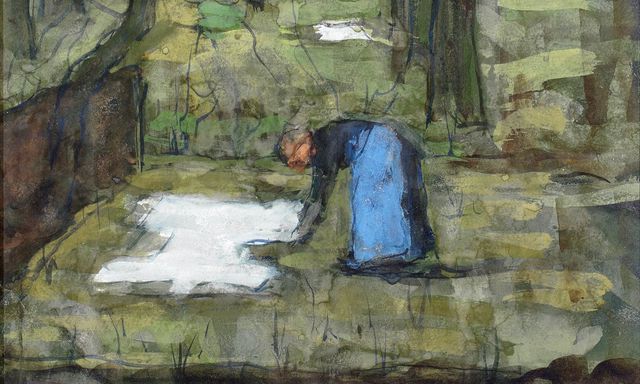 Also read: Why did we forget Suze Robertson, the 'female Van Gogh'?