Bleu Jour innovates with a European developed and assembled motherboard in combination with a modular Intel NUC Compute Element in the Kubb mini PC.
Never heard of Bleu Jour as a PC manufacturer? We don't blame you, the French computer maker is only now starting to gain steam with the special Kubb mini PC, among others. No shortage of experience: Blue Jour just celebrated its 20th anniversary last month. The company used to be an expert in IT accessories, but today it is mainly PCs.
Last year, Bleu Jour generated an annual turnover of 63.3 million euros. In two years, it has tripled PC production to 70,000 units by 2021. To bolster its growth and innovation drive, it says it is launching the first European-made computer on the market. A strong claim from the manufacturer, which we check with Jean-Christophe Agobert, CEO of Bleu Jour.
It's the motherboard, not the chips
He immediately understands our reluctance and clearly explains what the company means by this. "We have developed our own motherboard and the automated component assembly is carried out in France (Toulouse). It goes without saying that the various components on the motherboard are not all local. Chip manufacturers in the US, Asia, but also Europe supply them to us."
According to Agobert, this is an important step because his company is so much less dependent on chip shortages. Bleu Jour manages the chain directly and does not rely on an external motherboard manufacturer to put everything together. "On our current devices, we operate within the Intel NUC platform with manufacturers supplying us with hardware, as do many other PC manufacturers today."
Where the new Bleu Jour Kubb innovates is in its embrace of the Intel NUC Compute Element, a full computer on a small printed circuit board that plugs into a compatible motherboard.
Intel NUC Compute Element
First of all, it is important to clarify the Intel NUC Compute Element. This type of NUC has existed since the end of 2019 and comes in two versions: with a PCI-Express connection or via a proprietary connector.
The PCI-Express variant is required for high-performance solutions with Intel Xeon chips (Pro Compute Element) or with a more powerful integrated graphics card (Extreme Compute Element). It goes without saying that within a compact Bleu Jour Kubb mini PC (12 x 12 cm) there is only room for the Intel NUC Compute Element modules with a built-in connector.
In addition to an Intel processor, such a module also contains memory (RAM). Some versions even have 64 GB of storage space (eMMC) on board for systems such as thin clients. Today you can choose from many Intel NUC Compute Element configurations with processors ranging from Celeron and Pentium to the more powerful Core chips. The full list can be found here.
European first
Bleu Jour's self-developed motherboard provides space for such an Intel NUC Compute Element on one side. The other side of the motherboard provides space for storage via up to two M.2 slots. The top of such a NUC element is also the thermal contact point for mounting a cooler. On the back of the motherboard you see the standard 1x RJ45 (ethernet), 4x USB-A, 2x miniDP, 1x power supply. WiFi/Bluetooth, USB-C, RS232, all added (optional) during assembly.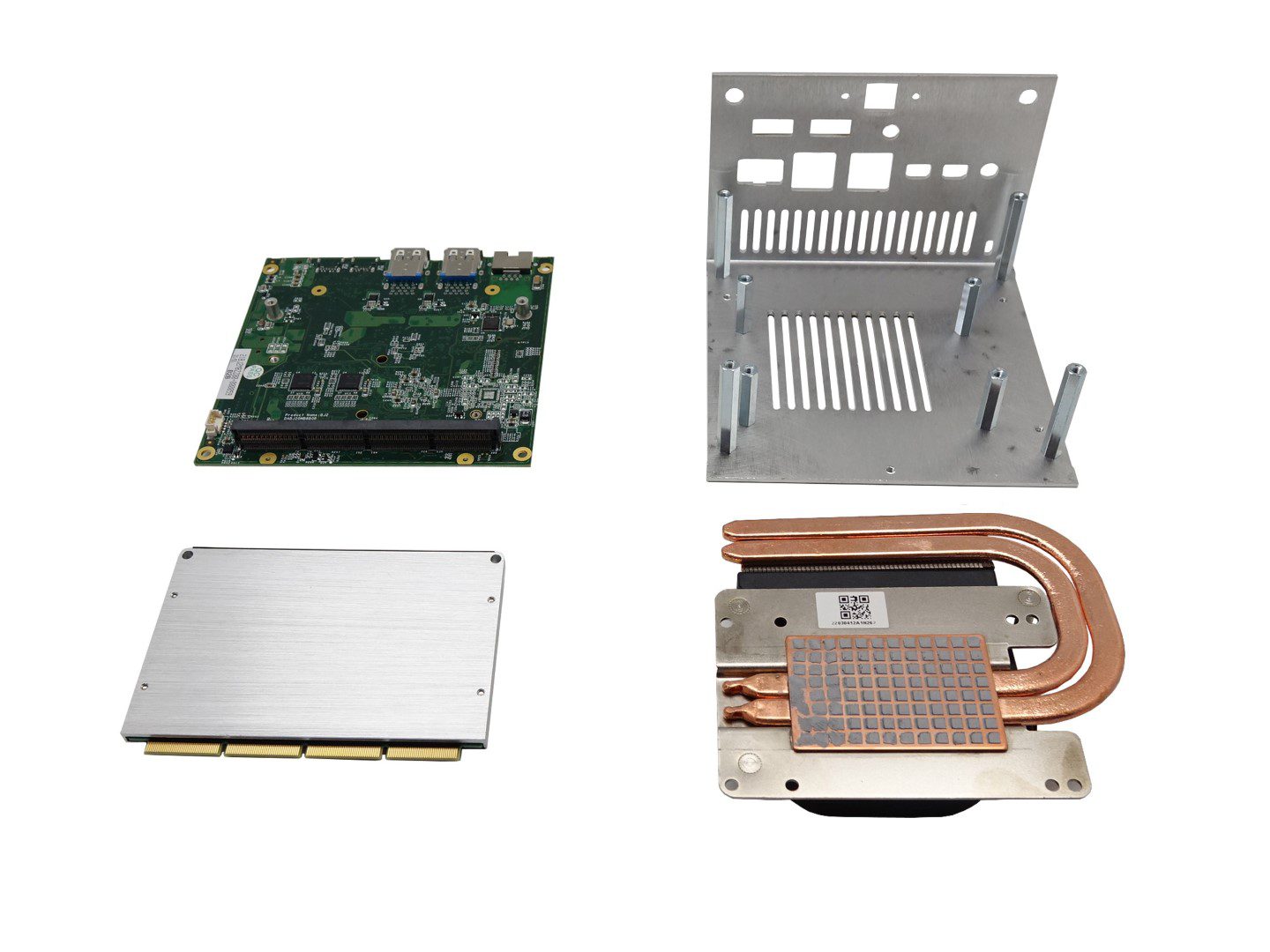 One would think that such a locally manufactured motherboard would cost more, but Agobert quickly rejects this. "It can save 20 euros per Kubb, but in return you keep the chain much smaller and more manageable. We can scale more easily, and this shows our commitment to the potential of the Intel NUC Compute Element. Intel builds it completely, whereas with a traditional NUC like the Kubb today you are dependent on other partners."
That such a European project also looks good in marketing is something Bleu Jour is practical to take into account. The manufacturer could count on Intel's support when designing the motherboard. It was one of the first to receive all the circuit details to assemble its own compatible PCB. After many compatibility tests, Bleu Jour Kubb gets the European first.
Is Intel reliable enough?
With the Intel NUC Compute Element, Bleu Jour puts a lot of eggs in Intel's basket. If the manufacturer does not find the modules commercially successful, you will be left empty-handed. Intel has previously scrapped other innovative projects such as the Intel Compute Stick or the Intel Compute Card early.
"I understand your distrust, but it is different with the NUC Compute Element. Intel has been building it for some time, and the first modules saw the light of day in 2020. Today we can review Intel's roadmap, and their ambitions assure us that this part has earned a permanent place in the lineup."
Today we can take a closer look at Intel's roadmap, and their ambitions reassure us

Jean-Christophe Agobert, CEO of Bleu Jour
What about the easy upgrade of such a module? In principle, within five years, anyone can order a new module and push it into the Bleu Jour Kubb without the manufacturer passing the cash register again.
"We're not losing sleep over it. That upgradeability is a key asset, our Kubb is open." He certainly won't stop the occasional private owner, but that doesn't worry the brand either. "We work primarily in the B2B sector, where such an upgrade can be conveniently agreed with the partner we work with."
In time, also the NUC boards
Anyone buying a Bleu Jour Kubb today will only see the traditional NUC variant. The cube with the new French motherboard was presented to the press today with an 11th generation Intel chip inside. There's a good chance it will soon be replaced by a 12th-generation chip later this summer in a new line of Intel NUC Compute Element modules, but Agobert doesn't want to confirm that.
In the long term, Bleu Jour would also like to make NUC boards themselves, with the aim of eventually building the foundation of each device within its own portfolio. The producer does not give himself a deadline. Knowing that the first French motherboard was in development for almost four years, it may take a while before we see the result.
Lots of ambitions
20,000 PCs shipped in 2019, 70,000 PCs in 2021, where is the ceiling for Bleu Jour? When we ask about Agobert's wildest dreams, he laughs loudly and takes his time. "First and foremost, we continue to focus on the EU growing. Our priority is the B2B market, where we are unique as a local player. We also want to remain human as a company."
We offer a 5-year warranty on every PC as standard.

Jean-Christophe Agobert, CEO of Bleu Jour
He does not surprise with megalomaniacal dreams that should keep HP or Lenovo awake, but at the same time you feel that he is strong in his shoes. When we ask him how he would react if a major Asian manufacturer rolls out a comparable mini-motherboard at half the price, he remains unconcerned.
"We look at the overall concept. Our Kubb is a smart design that enjoys great traction on the business market, and which you can provide with your own logo. Finally, we offer a 5-year warranty on every PC as standard. My ultimate goal is for Bleu Jour to be recognized as one of the major brands among the well-known international PC manufacturers. If we succeed, we have taken a very big step."