Celebrate Eid without being a Muslim, make offerings to the Balinese temple houses in the garden and experience Christmas in a Chinese restaurant. When different cultures come together in one family, new rituals are born. Three unique stories about how multicultural families in our country experience the festive season.
Mohammed and Naomi
Mohamed (42) and Naomi (39) have been together for fifteen years and got married in 2017. It wasn't always easy to bring their Moroccan and Flemish backgrounds together or reconcile Islam with atheism, but the couple believes in give and take.
Naomi: "When we were just a couple, our cultural background didn't matter. It wasn't until we moved in together after three years that things became difficult at times. We thought we knew each other well enough to take that step, but when we put our daily habits together, it turned out not to be the case. We both had to get used to each other's cultural traditions. I especially know Ramadan."
Mohamed: "During Ramadan, I have dinner with my parents every evening. They live one street away from us. My brothers and sisters are there often too. We spend the whole evening together, late into the night."
Naomi: "It was a culture shock for me at first. A Christmas party lasts one evening, and I think that is often long enough. (laughing) Although I was raised atheistic, I was taught the traditional holidays such as Christmas and Easter. I would like to honor that, also for the children."
Bringing a Christmas tree into the house as a Muslim was strange at first.
Mohamed: "I was shocked when Naomi bought a Christmas tree for the first time. As a Muslim, it was strange for me to have a Christmas tree in the house. We had discussions about it, but today I think it is important that our children also inherit that tradition. As a child I never celebrated Christmas or Sinterklaas. When classmates talked about their gifts, I felt left out. I don't want my children to experience the same. With Sinterklaas, they got their shoes ready. We want to give them our two cultures. The language is important to me, at home I try to speak Arabic as much as possible. Naomi understands everything."
Naomi: "I used to take Arabic lessons to immerse myself in Moroccan and Islamic culture. But Moroccan cuisine also taught me a lot about the culture. I often spend time in the kitchen with my mother-in-law. She is a top chef. Even at eighty, does she still throw the best party.It's on Eid tagine barbecuea tagine of lamb and sweetened prunes and couscous every Friday."
Mohamed: "Not every Friday, French fries are also tasty sometimes." (laughing)
Naomi: "Being with Mohamed softened my idea of ​​religion. I learned from his family that faith is in the small, everyday things. It's not something that dominates your life. It's just there and it's normal" .
Mohamed: "Religion is personal. You are religious or you are not. I would like to pass on what I have received from my parents to my children, without imposing anything on them. What they do with it later is their choice."
Naomi: "They want to hear different stories from me. It won't be easy for them to have parents with such different ideas, but we can't change ourselves. We respect each other. We think it's important that everyone can be themselves . Because we give each other that space, we manage to bring two cultures together in one family."
Martin and Eka
In 1998, flamenco Maarten (46) moved to Bali to set up a dance and music school. There he met Eka (42). Today they live in Belgium with their three daughters in a mansion with a gamelan in the living room, a typical Indonesian instrument and two Balinese temple houses in the garden.
Eka: "When Maarten arrived in Bali, I had just graduated as a dancer. My uncle owned a dance school and asked me to teach there, so I moved in with him. Maarten also stayed there, that's how I got to know him. In 2001 we got married and a year later we had our first daughter.
I celebrated Christmas for the first time when we traveled to Belgium to visit Maarten's family. In Bali we sometimes had a Christmas tree. We found it in the mountains after a long search, but it was not easy to find a pine tree on a tropical island. Turkey was not on the table then either. I made a dish of rice earlier for Christmas and we invited family and neighbors to spend the evening together."
Every morning we bring coffee, incense and flowers to the gods.
Maarten: "Our second daughter was born with autism and a mental disability. Because we wanted to give her every chance, we decided to move to Belgium, but without giving up the Balinese culture. We brought objects from Bali and Eka continues her Balinese dance lessons in our dance school here, which has the same name as the one in Bali: Dwi Mekar. Which literally means: with two we can flourish.
In our garden there are two temple houses, made of lava stone: one covered in white and yellow cloths and the other in black and white. The shrines of the temple are visited by the gods. Balinese Hinduism is based on a polytheistic system where each god has his own function, place in the cosmos, power and color. The black-and-white-clad temple house in our garden is a Penunggun Karang, for the guardian of the land, the house and the family that lives there."
Eka: "Every morning we bring the gods coffee, incense and flowers. We also make sacrifices when I make a Balinese dish. Then we put rice, vegetables and meat on banana leaves in the temple houses."
Maarten: "Living in harmony with the others, that's what these sacrifices are about. We do this in everyday life, but also on holidays. Every seventh month we celebrate Galungan, a ten-day period when the ancestors return to earth. On the tenth day, the ancestors leave the earth again, that day is called Kuningan. We usually go to Pairi Daiza where Balinese Hindus from all over Europe gather to celebrate in the zoo's Balinese temple. They eat together, play music and dance just like in Bali. But we often also celebrate the holidays at home."
Eka: "While those parties are celebrated lavishly in Bali, we celebrate them in a more intimate way at home. We bring offerings to the temple houses in our garden and eat with our family. Then there is a traditional dish on the table: rice with strongly spiced chicken or pork, minced meat with beans and ribs or satay with coconut. No turkey, we'll save it for Christmas."
Maarten: "Our backgrounds have an equal place in our family, and we let our children freely choose what they adopt from which culture. Still, my wife and I have both had to adjust. When I went to Bali I completely immersed myself in the culture, learning the Balinese language was a challenge. But after ten years I felt completely settled. Back in Belgium, I had to get used to Western culture again. It was also an adjustment for Eka, but because we had often visited my family, everything was not new.
Now that we have lived in Belgium for ten years, we have found a way to mix the two cultures in our family. We see that as wealth. Like the meaning of dwi mekarcan we also flourish through the two cultures that meet in our family."
Joe
Joe (43) is a Belgian with a Chinese mother and a Flemish stepfather. Every year he reflects on his roots when he organizes the Chinese New Year in Antwerp. Still, he wonders what role his cultural background still plays in his daily life.
"As a native of Antwerp, I have always been exposed to Western culture. When I was eight, my Chinese mother remarried a Flemish man, so I have been celebrating Christmas and New Year since childhood. Those parties took place in my mother's Chinese restaurant in Sint-Niklaas, with my stepfather, the customers and between the plates and pans. Now that my mother no longer has a restaurant, we just meet at home.
Your luck for the coming year depends on which dish you eat for Chinese New Year and how much of it you eat.
One month after Christmas and New Year we celebrate Chinese New Year. It falls on January 22 this year. In Chinese culture, it is an important family event. We start the new year together, wish each other good health and good luck, but what we mainly do is eat. Eat a lot. (laughing) The table is full of traditional New Year's dishes. Each dish symbolizes some kind of happiness. Steamed fish gives enough, or always to have enough. Mini spring rolls bring wealth as they look like gold nuggets and Yi Mein noodles are a symbol of longevity. That's why they do long life noodles called. Your happiness for the coming year depends on which dish you eat, and especially how much of it you eat. Therefore, Chinese New Year is one big celebration for most families, including us.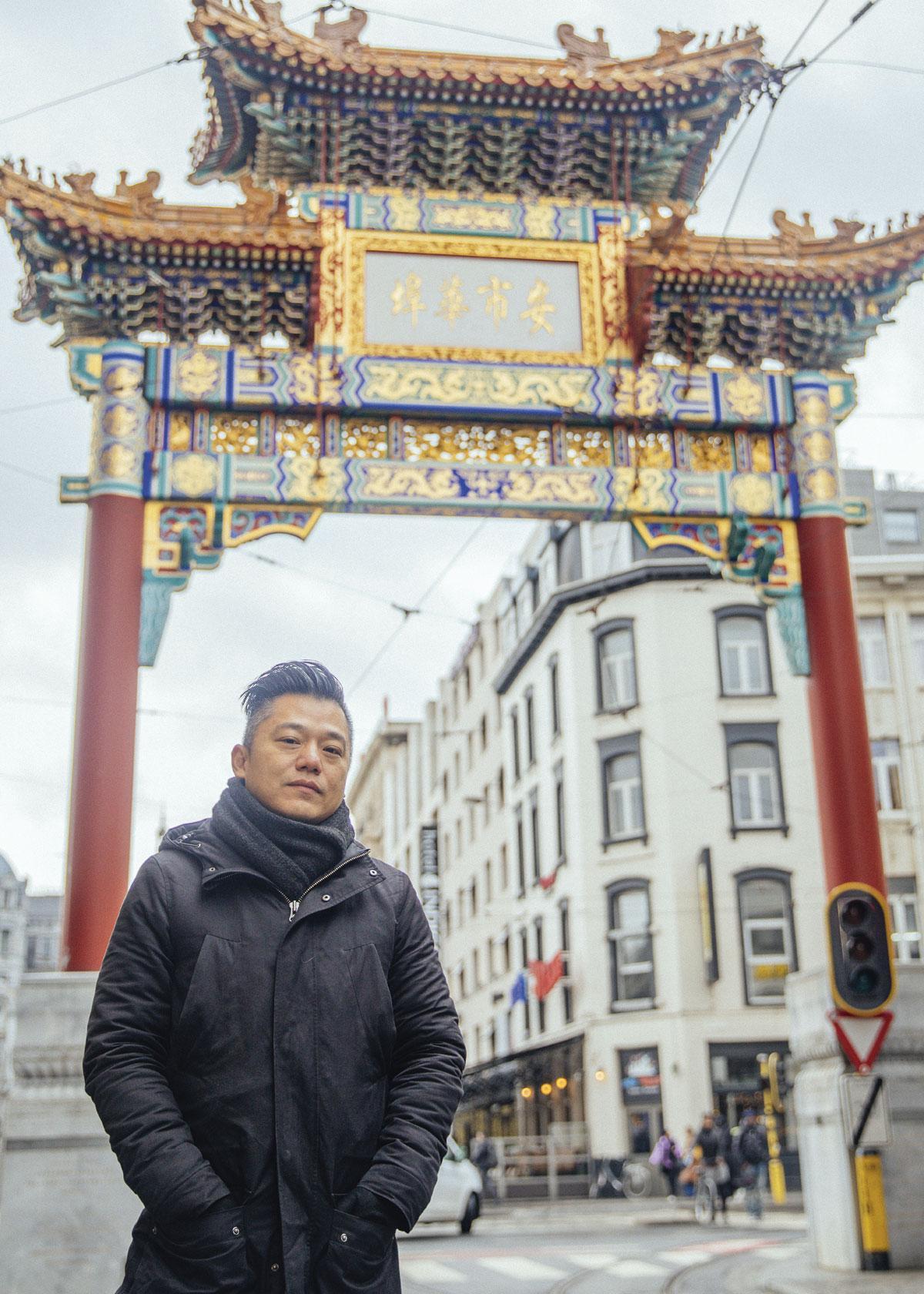 Every year I organize the Chinese New Year party in Chinatown in Antwerp. For that day, I will return completely to my roots. Yet I wonder to what extent I still embrace my cultural background in everyday life. As a third-generation migrant, I am a mix of cultures: a native of Antwerp with a Chinese background and a Flemish stepfather. Moreover, the younger generation of migrants is increasingly choosing a partner with a different cultural background. And then a little bit of tradition disappears with each generation.
I still hold on to a number of Chinese traditions, such as the Lion Dance on Chinese New Year's Eve. Kung fu practitioners then wear a large mask in the shape of a red lion made of paper mache and bamboo and dance in front of the shops and restaurants to bring good luck to the owners. With that ceremony, I try to keep alive the Chinese culture, which will always remain a part of me."