•
Today
•
reading time 7 minutes
•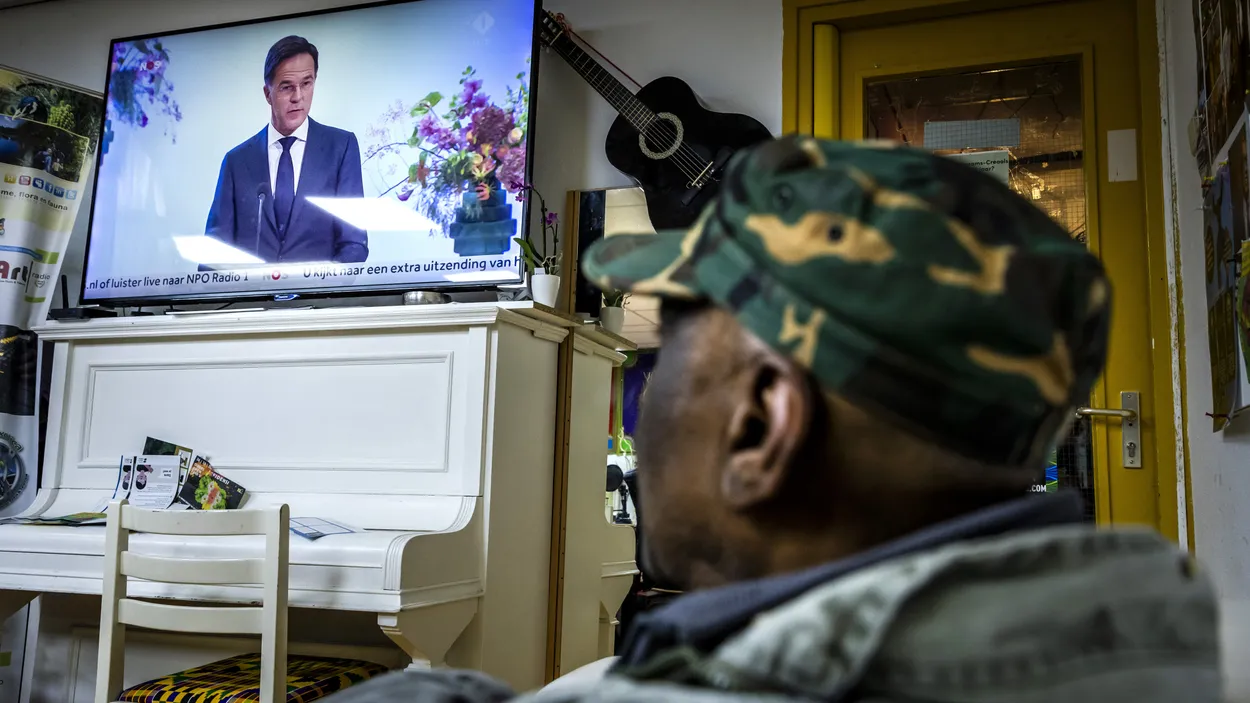 If you are black or brown in this country, you remain a stranger who must answer for you to breathe.
Do you belong to the heirs of Cornelis Van Aerssen van Sommelsdijk, co-owner and governor of Surinam (1637-1688)? None? Sit still. Sit nicely.
Because you didn't get rich from the slave trade, honey.
Are you a descendant of the CEO of VOC/WIC? nor? Return to your proper position. Because you, as a bit loud, had nothing to do with the slave trade.
Was one of 28 great-great-great-grandfathers on the board of a multinational company dealing in sugar and timber trade.
Was one of them a famous navigator? Piet Hein, whose deeds were so great… or Maarten Tromp? Do I hear no again? So, dear Dirk Doorsnee, Vinex resident, Rijtjeshuis resident, Descendant of Turfstekers, you have nothing to do with all this arguing about whether to apologize and regret?
So you let Mr. Rutte nicely knock his fence posts, don't you?
You are not the crown. Willem III, who did his scribbling and thus ended slavery in 1863. It was the crown. It was an enlightened time. Thanks to Hugo de Groot.
The government was and is responsible … the king was and is inviolable.
But universal suffrage was still a long way off. So dear Miranda Modaal, you as a less well-off, non-noble, had absolutely nothing to say about all the black people in 1863, freed without earning a penny. You had not made laws and regulations to keep the black scum with bible, father and priest in line after the emancipation was a fact.
Then as now, it certainly wasn't about you, dear angry white people. Citizens of the Kingdom of the Netherlands.
It was about black people. Just like you, citizens of the Kingdom of the Netherlands.
So that's why I ask again: why are you so terribly angry at the black people who are asking to be heard? To be seen. You also want to be heard by the government, don't you? To be seen. No longer be a social security number.
The government that haunts the nocturnal Hague deaf and blind like a ghost and pushes through all sorts of crazy measures? Isn't that a problem for all Dutch people?
Why are you fighting personal feti (this is the correct spelling of the word Feti. A fittie is a fit) on social media? Offended and angry. Fire breathing. Hate to see. Knocking furiously on the patient keyboard. Saying people don't know their place. Tell them to return to their own country. They are already in their own country. So what is your problem?
Have they personally harmed you?
Again: what is your problem? Why are you reacting so excitedly? Like being bitten by a tarantula.
Because blacks are loudly demanding their place in this society? Fight for your place.
It is the pinnacle of integration. It is democracy.
Take part. Thinks and decides.
That they did not participate. Wasn't that what annoyed the white people so much? Always ghallala. I cant hear. Do you never speak Dutch?
And now that there is a lot of conversation in Dutch, isn't it good again?
They are and will remain the eternal guests, wrote a sly aunt on Twitter.
She forgot: those guys were just born in Dijkzicht or the old Slotervaart. Like their mother and their father… like their grandparents… sometimes
Máxima was right: the Dutchman, white. light blonde. Blue eyes. It does not exist.
Even if the whole country screams from today to tomorrow that it exists. And that Máxima knows nothing.
The Dutchman of today comes in all colors and shapes. Indo, Surinamese. Ghanaian. Argentinian. Frisian, Limburgish, Bonaire, Saba… Is white. Beige, mixed. Black. Blonde. Brown. Red. Inns. Smooth, curly. Eyes blue. Like a cloudless winter morning on Brunssumerheide. Green. Like the trees in Vondelparken in June. Brown. Like the bar at the cozy Bruin café in Katendrecht. Gray like the wild waves of the North Sea in November.
Netherlands! At the narrowest.
Cognitive dissonance. The theory of Leon Festinger. Why the human brain must distinguish. If you do not distinguish, you cannot function as a human being. Then the brain becomes overloaded. In Jip-and-Janneke words: anything that is found strange and weird or doesn't fit your frame of mind is kicked out of your brain.
So: if you live in an über-white bubble, you have a hard time accepting the one black family on the corner as a good neighbor.
"They're weird. Their food stinks. They're dirty," you'll yell at anyone in your white circle who will listen and help you keep your mindfuck going. The only way to resolve this dissonance is to turn to to the black family. Talk to them. Accept their invitation to dinner. Taste another culture. Learn from other habits.
But most white people want nothing to do with couscous eaters. Or with screaming black Bijlmertantes.
Toxic thoughts are addictive. And you can't force people to break the habit.
That tori (story) only becomes difficult when a Molotov cocktail appears through their mailbox… or when dirt and rotten eggs are thrown into their yard. Or that people chalk on their front door, which they have to knock off, because otherwise…
Yes, junkies… they ruin everything.
Politics. Board of Directors. The police. The judicial power. They all suffer from cognitive dissonance. Big Time.
In order to bind the electorate, the politicians scream passionately that newcomers must be integrated. To master the Judeo-Christian traditions. Integration people tell newcomers that street scourging is part of it. Speaking impeccable Dutch is an advantage, even if the person integrating can barely inflect the verb "to have".
And if you, as a colored Dutchman, are exhausted and crooked from boring misery, then there is the letter from the Tax Administration. You are an algorithm. Your exotic name is prominently displayed on a blacklist. Swindler. You make Sywert van Lienden pale.
The computer says pay money back or we'll sell all your possessions and throw your children out…
The house you earned with hard work. That house with the impeccably clean sidewalk. That house is being ripped out from under your ass. Sold by the bank. You learn that, says Mr Dorknoper from Tax and Customs. "Our computer never lies. And all attacks that the computer spews are automatic and therefore completely justified. The judge and the Riksrådet have no doubts about our competence either. They are impartial.
We act according to the letter of the law. We don't make colors, the judges say wryly… but yes, those computers are almighty. And if you don't pay soon, we'll break your march".
Cognitive dissonance. The concept that Stef Blok could not explain. And in the cacophony of all these roaring hypocrites, he lost the intellectual ability to defend himself…
But that's the truth. Like a cow that big. Each person makes a difference.
But: not all are overt racists. Not all people sow hate. Not everyone wants another person in the gas chamber. Not everyone is happy that the El Al-747 destroyed many black bodies in the Bijlmermeer.
Just because the dear Lord blessed him with a tan… Simply because his DNA and his RNA strands are interlaced differently…
Scan less-less. And then pretend you feel sorry for yourself.
How bad was it? How bad was it?
"Where are you from?"
"From the Achterhoek"
"Okay. Where are you from anyway?"
After the thousandth time. Probably not?
These questions don't just anger people of color.
They make people turn their backs on society.
Not taking note of what is happening in the mainstream
Moroccan boys hanging out. No chance. No possibilities. Tomorrow's Taghis.
What have they done wrong to this society?
Black boys from the southeast. No career as a footballer or rapper?
Running is also a good subject.
Because, see nôh, duku is duku.
And those watches? They are too dope to leave in that winkri.
be skeptical. It is true.
Ask me mom. She worked at Schiphol.
Cleaning of aircraft.
Until that foreman's saka-saka got her breasts out.
And the kneecaps were broken…
public pension, you know. She can barely exist.
They are on the sidelines. All that talent. Hands on the bed.
Thinkers along the way.
Language acrobats…
While shouting for the staff…
But if you only have duties
Zero rights
Can't you expect anything
Except for the anger that brews and grows.
We are like Noah. The colored Dutch. We live on an Ark that shuttles between the North Sea coast and the Caribbean Sea;
We sail forever between IJmuiden and the port of Nador;
Always turbulent. Never dry your feet.
We are on the train that commutes between Amsterdam and Ankara.
Always on the road. Never coming home.
Holland man. botomand (boatman)
A tree. No roots.
If you are black or brown in this country, you remain a stranger who must answer for you to breathe. That you exist.
Even if your cradle was somewhere in the Achterhoek.
Even if you just want to be happy. Safe way of life. Raising your children.
Faced with this damn energy crisis.
Worry enough.
So dear white man: why do you pretend that all fellow black citizens are still guests in this country? And therefore do not have the right to speak? Not eligible for representation in the Dutch Parliament? Denies that Mark Rutte is also their prime minister. Even if, like you, they didn't vote for him? That Willem-Alexander is also their king…
Sit down.
And let the Prime Minister be the representative of the Kingdom of the Netherlands
Unilaterally, without all of us asking, apologizing, comma… comma… comma