The queen

NPO 2, 19:42
(Drama, Stephen Frears, 2006)
The British Queen loved animals more than people, that could be one of the conclusions from the feature film The queen, about the painful period in England after the death of Princess Diana. In addition to the protagonist Helen Mirren, Michael Sheen stands out. As the young and hugely popular Tony Blair, he is faced with increasing criticism of the cold, callous royal family after Diana's death. His meetings with the queen are beautifully depicted. But the best moments are for Mirren solo, as the confused monarch who seems to be losing her grip on her family, her people and her life.
Knives out

Veronica, at
(Comedy, Rian Johnson, 2019) "That guy basically lives on a Cluedo board," says one in Knives out about Benoit Blanc. The cowboy-talking detective has been hired to investigate the apparent suicide of thriller writer, millionaire and patriarch Harlan Trombey. Blanc (Daniel Craig) is the type of detective who brings all the suspects together for a monologue that reveals the killer and Knives out bravado is headed for such a repeal. Old fashioned entertaining detective game (the sequel Glass onion now running on Netflix).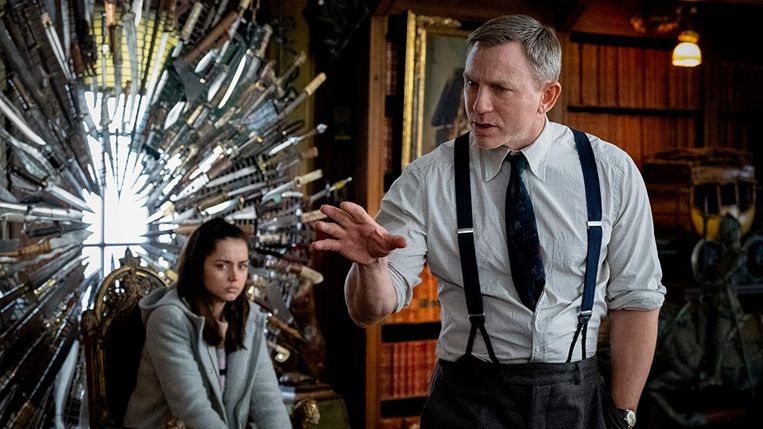 2 Doc: Mother

NPO 2, 21.44
Rotterdam drag queen Ma'MaQueen knows how hard it is if you are not accepted. Therefore, she has created a safe haven for sufferers who cannot count on understanding their own environment. In her documentary Mother shows Esmée van Loon how Ma'MaQueen took care of six 'dragon children' of different ages, from different corners of the world. They feel safe and seen under Ma'MaQueen's wings.
Common smarts

NPO 1, 22:04
IN Common smarts Brigitte Kaandorp, the queen of Dutch cabaret, and Jenny Arean, empress of Dutch chanson, team up. They form a golden combination: Kaandorp is a cabaret artist who supplements his programs with songs, while Arean, who is twenty years older, is primarily a singer, but with a penchant for cabaret. Common smarts is a series of evergreens, interspersed with anecdotes and commentary.
Top 2000: The opening

NPO 3, 22.41
Before the 24th edition of Top 2000 starts on NPO Radio 2, pop connoisseur Leo Blokhuis looks forward to this year's list together with the idiots who present the program between Christmas and New Year's Eve. Top 2000: The opening is a mix of live performances, special photos and personal Top 2000 stories, after which DJ Bart Arens provides the spectacular kick-off. He presents the list together with twelve colleagues, including Jeroen van Inkel, Gijs Staverman and Ruud de Wild.
Christmas duets: the Christmas story with Stef Bos

NPO 2, 22.48
From the recently restored Grote Kerk in Loenen aan de Vecht, singer Stef Bos tells the story of the birth of Jesus in his own way, drawing inspiration from his own life, his family, current events and music. Classics just pass The first Noel and Gloria in excelsis Deobut also e.g Fragile from Sting. Bos is joined by his musical colleagues Edsilia Rombley, Frank Boeijen, Berget Lewis, Desray and Diggy Dex.
Willy Wonka & the Chocolate Factory

Only 5, 23:32
(Musical, Mel Stuart, 1971) Fantastic film adaptation of the novel by Roald Dahl, who wrote the screenplay himself. Willy Wonka opens the doors of his chocolate factory to five children and their parents. Poor man Charlie is actually the only one who really deserves the award. With beautiful decorations, nice songs and with Gene Wilder in the role of a contact-disordered factory manager – much funnier than Johnny Depp, who played the role years later in Tim Burton's remake. Keeps animal lovers away from the scene in the tunnel when a chicken is beheaded on screen.