Twice during the performance Wolfgang, the child prodigy Salieri's (Jan-Paul Buijs) wig falls off: once on purpose and once by accident. At least – that's how it seems. It is illustrative of the whole performance, which balances between the sincere attempt to tell a beautiful and exciting story and at the same time a parody that resembles it. With moments of great class, mixed with scenes that are not well thought out, too long and also somewhat frayed. And with an important question: Is this show about the rivalry between Wolfgang Amadeus Mozart and the court composer Antonio Salieri interesting enough for an audience of 8+?
It is, of course, the family show Wolfgang, the child prodigy: for people from 8 to 80. At least one of them had a nice evening, but still missed a bit of director Pieter Kramer's finesse. Until three years ago he did the show at Ro Theatre/Theater Rotterdam, now he has found shelter at De Theateralliantie and Theater Oostpool. With an acclaimed creative team including Don Duyns (lyrics), Theo Nijland (songs), Char Li Chung (final direction), Daan Wijnands (staging) and Niek Kortekaas (design).
Together they retell the well-known story of the young Mozart and his rival Salieri. Their struggle to become Emperor Joseph II's favorite composer is best known through the film Amadeusbased on the play of the same name by Peter Shaffer.
Swing

The beginning is very nice: the baby Wolfgang is still in the pram, but already playing with a violin. In a wonderfully exuberant interior with plenty of scenery and Viennese treats, it quickly moves on to Austria's voice, where the very young Mozart must compete against Salieri. From that moment on, the battle between the two prodigies – one frivolous and bold, the other stiff and petty – has been the common thread throughout the performance. But there's also ample attention paid to Mozart's parents, Salieri's mother, Mozart's love affairs, and both of their muses grab their moments as well.
The whole thing is of course set to Mozart's music, with Theo Nijland writing lyrics. Before the break, the performance feels tense here and there, as if the swing just doesn't want to go in. But then it's Emperor Joseph II's (Alex Hendrickx) birthday, and it devolves into a hilarious scene where everything is pulled out of the closet in terms of fun and craft, including a round of trampoline on the Emperor's bed. That abundance is really necessary to make things run smoothly.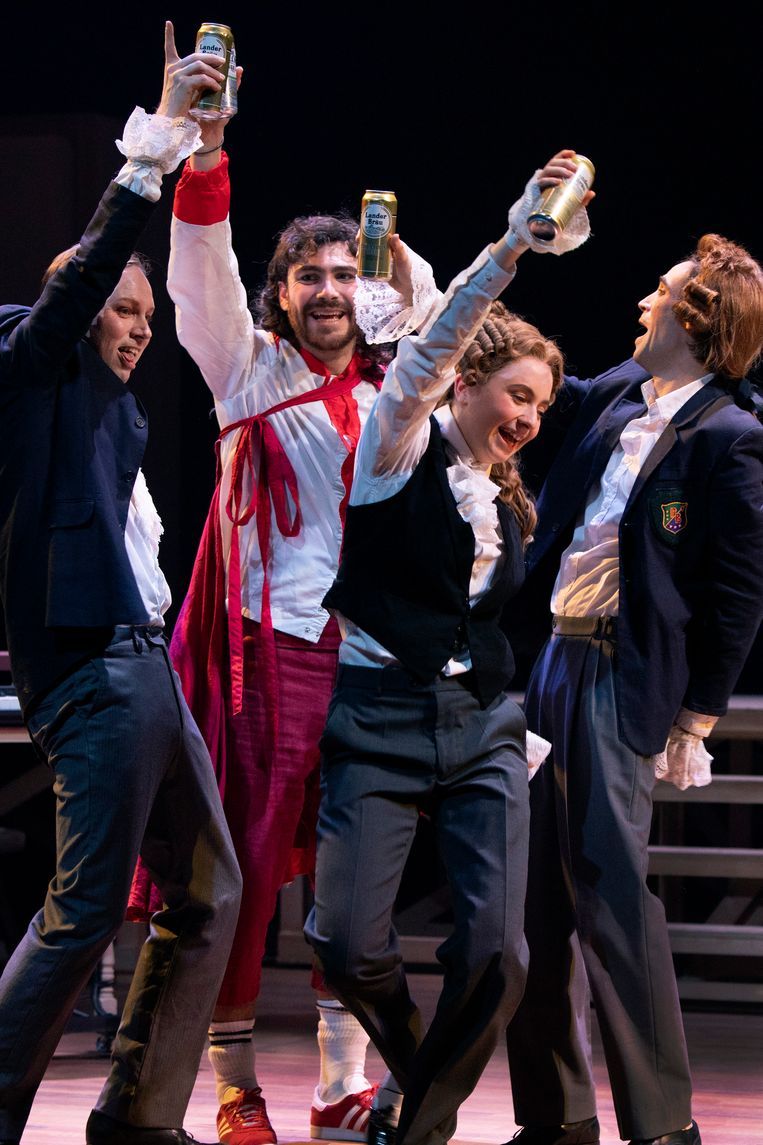 After the intermission, everything goes a little more smoothly, and some very funny scenes pass by, such as Mozart on a rock tour and the performance of an inventive mini-opera with a compelling, deadly finale. Between the lines there are some sharp references to the current world of showbiz and the role of celebrities in it (The Masked Singer, André Rieu, Louis van Gaal, Paul Witteman). That characters here are called Hausmacher, Bockwurst and Pfankuchen is nice, but not necessarily necessary.
tour de force

The ensemble performs a tour de force playing all kinds of double roles and accompanying quick dressings. Bart Rijnink is a cheerful Wolfgang, bubbly and charming and with a fine, rich singing voice; Jan-Paul Buijs plays the role of Salieri rather phlegmatic and vicious. In the female roles, the beautiful singing voices of Ruth Sahertian (Luise Weber) and Sara Afiba (Wolfgang's partner Constance) are particularly striking. Special mention to Lukas Smolders, who not only plays a dragon of a mother to Salieri, but also the beautiful, almost silent role of the pedestrian Hausmacher.
But the surprise of the evening and actually the best thing about this performance is Alex Hendrickx in the role of Emperor Joseph II. He manages to play both a bumbling child and a grotesque monarch, all with enormous comic talent, full of energy and above all fun. That boy enjoys this theater and we enjoy him.
The play Amadeus by Peter Shaffer premiered in 1979 and was adapted for the screen in 1984 by director Milos Forman, starring Tom Hulce (Mozart) and F. Murray Abraham (Salieri). The first Dutch performance was already in 1980 at the Haagsche Comedie, with Willem Nijholt and Hans Hoes in the lead roles. Nijholt played Salieri again in 1991 in a free production by John van de Rest, with Paul Röttger as Mozart. In 2005, Jeroen Krabbé celebrated his 40th anniversary as Salieri at Bos Teaterproduktioner, with Marc-Marie Huijbregts as co-star. The last Amadeus dates from 2019, with Mark Rietman as Salieri and Sander Plukaard as Mozart, directed by Theu Boermans at Het Nationale Theater. Boermans will also direct Mozart's opera next year Die Zauberflöte at the Theater Alliance.
Wolfgang, the child prodigy
Theater
★★★☆☆
By De Theateralliantie and Theater Oostpool, text Don Duyns, director Pieter Kramer and Char Li Chung (final direction), lyrics Theo Nijland, design Niek Kortekaas.
22/12 New Luxor Theater Rotterdam; On a trip.