Nickolay (21) takes a flight from Bulgaria to the Netherlands twice a month to get to campus. Not of his own free will: due to the lack of housing, he could not find a room in Tilburg at the beginning of his second year. This forced the Business and Entrepreneurship student to return to his parents in Sofia and continue his studies from there.
"I want to focus on my mother, because she always drops me off at Sofia airport very early in the morning. From there I take my flight to the Netherlands, which usually takes about three hours. After landing in Eindhoven, I take the bus to the city's main train station. Here I board the train to Tilburg University, where I attend my lecture at 10:45.
"When the seminar is over, I go and study with my friends in the CUBE or the library. After we finish we go to my friends house to play League of Legends or watch a movie. At night I sleep on the couch in the living room. The next morning I get up early and take the same route back to Bulgaria. After my flight arrives in Sofia, I order a taxi and go straight to work, because my night shift is about to start."
This is what Nickolay's journey looks like every time he goes to Tilburg for his offline tutorials. At the moment he has one course with compulsory attendance; if he missed two or more classes, he would fail the subject. For the exam he usually has to stay a week or even longer.
Still, it's not just tutorials and exams that bring him to campus. "I want to be part of the community here and meet new people, which is part of studying abroad for me. I also miss my friends whom I met in my first year and who were lucky enough to be able to stay in Tilburg. They are part of who I am, so I really miss being with them."
Waiting lists
Before Nickolay had to move back to Sofia, where he now lives with his parents, brother and sister, he lived with two Bulgarian friends at the Talent Square. Each year, Tilburg University reserves a certain number of rooms in this student complex for international students who may stay here for a maximum of one year. Unfortunately for Nickolay and friends, this was in the middle of the pandemic, so all their classes were online.
When their lease expired, they were left to fend for themselves in their search for a new place to live. They ended up on extremely long waiting lists. "I signed up for some rooms more than two years ago and now I'm still only at seventy places. It even reminded my grandparents of the waiting lists for cars and houses they had in Bulgaria during the communist regime."
'It's a strange feeling to feel discriminated against for the first time in your life'
Originally they hoped to find something for the three of them together, but that soon proved to be in vain. Many landlords only rented to families, not groups of friends. And after a bit of research, Nickolay also found out that homeowners can only rent out a multi-room house if they have a special permit. "So the housing problem is not only a lack of buildings, but Dutch regulations are also part of it."
Internationally friendly
On top of that, Nickolay says he was discriminated against during his search. In Facebook groups he came across the now infamous phrases 'Dutch only' and 'no international', and during screenings he got the feeling that the Dutch were getting special treatment. "It is a strange feeling to feel discriminated against for the first time in your life. But it is true: Dutch students usually rent to other Dutch students, which is even more bitter when you realize that these student houses are often much cheaper."
What disappoints him the most is that he was never told in advance. Instead, he was led to believe that the Dutch are open and friendly. "It really amazes me that Dutch universities come to Bulgaria to actively recruit us and tell us things that later turn out to be lies. I distinctly remember a student fair in 2019 where a representative of the university told me how 'internationally friendly ' Holland and Tilburg are. Well, I haven't noticed much about that – and I know I'm not alone."
"That recruit never said anything about the bad housing market. Whose international you have no idea how bad it is here until you arrive. And to be honest, if I had known that beforehand, I would have chosen a different place to study business."
The sunny side
After researching all possible housing options, Nickolay was unsuccessful and made the difficult decision to move home. "I literally had nowhere to go. Luckily for my friends, they found something through their connections. I think I was a little less lucky."
Meanwhile, he can also see the bright side of his story. "It is cheaper to live at home, there is no doubt about that. A return ticket from Sofia to Eindhoven costs me around 150 euros, twice it is 300 euros. It is certainly less than I would have paid for a room in Tilburg. And because I live with my parents, my daily expenses are quite low."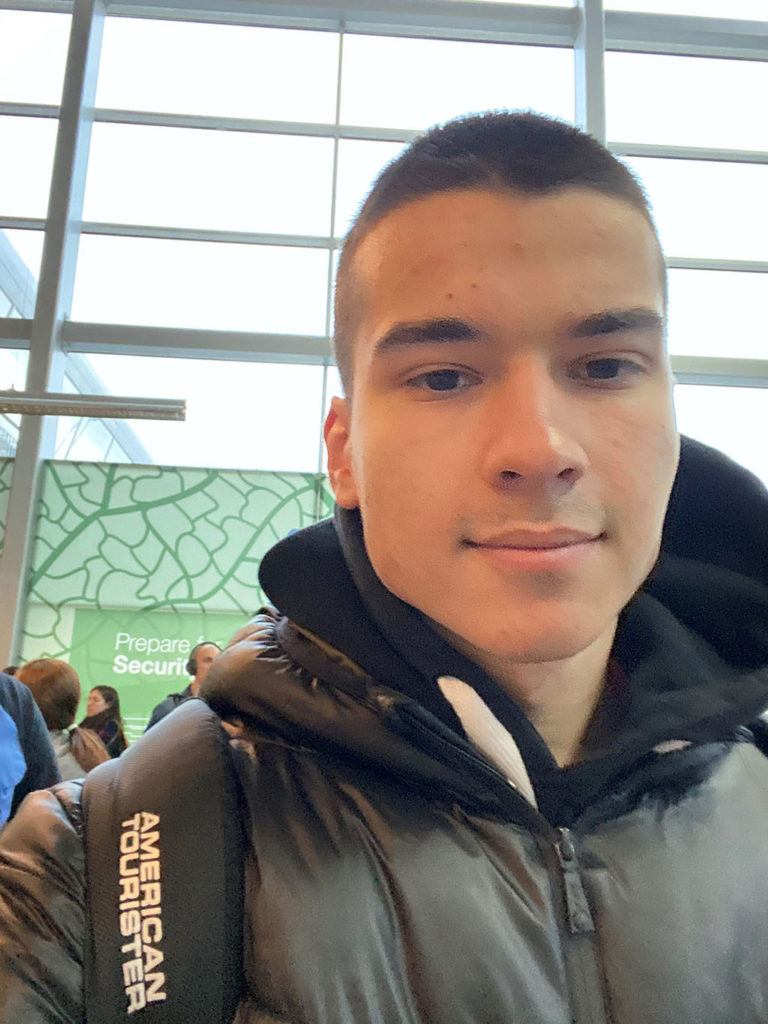 Nickolay also believes that the situation is a valuable lesson that contributes to his personal growth. For example, he learns to deal with setbacks in life and about his own adaptability. "I think you have to have a big plan for yourself, but be flexible to your daily challenges." Also, he learns to let things go and not to focus on the things that are out of your control. "No use stressing, it is what it is."
Offline education
Apart from the one offline tutorial, Nickolay largely completes his studies through recorded lectures and online PowerPoint slides, for which he is "deeply grateful". But whether it will also be possible next year remains to be seen. "As far as I know, the university is pushing for more offline education, something I do not support at all. As for seminars, I understand, but not as for lectures. In a lecture, there is virtually no interaction between teacher and student. It's just a transfer of knowledge'.
"There are several long-distance students like me who have not been able to find a room in Tilburg and are now forced to live in their home country. By not offering them an online alternative, you're hurting their learning process."
One of the university's motives for expanding offline education is the risk that students will no longer come to campus if everything is available online. While Nickolay understands this fear, he believes the university is not practicing what it preaches if it hinders online learning. "Now that Covid has moved society towards digitization, I think Tilburg University has no choice but to join that movement. Especially if it's you motto Understand society that."
Translated by Language Centre, Riet Bettonviel
Advertising