Janine Jansen was there. But what a shame she didn't play. At the opening concert of the Utrecht International Chamber Music Festival, her own party, the world star left her violin in the case. She was sick, came late, couldn't attend the tests. But on Tuesday evening, TivoliVredenburg was also buzzing with good news: Jansen will play as planned for the rest of the four days.
"Thanks to Janine, Utrecht is a city with music in it," said Utrecht Mayor Sharon Dijksma. Nice words, albeit a bit flattering, for what with the renowned Festival of Early Music. Furthermore, the chamber music festival's recent history has been decidedly restless. It changed from winter to summer and back. Cellist Harriet Krijgh took over, but left after two editions. And then came corona: two festivals were streamed or postponed.
So you could almost hear a relieved 'huh, huh' when viola player Amihai Grosz and a handful of musicians took their seats on stage in the Grote Zaal. Grosz, the first viola player of the Berliner Philharmoniker who is also a regular in Utrecht, is the guest programmer. He effortlessly adopted the festival's signature: a lot of well-known chamber music, with an original accent here and there.
Take such a forgotten beautiful song by Alexander Zemlinsky, May flowers bloomed everywhere. Viennese fin de siècle condensed into it: eroticism, love, death. The soprano Alma Sadé was wrapped in the most sensual threads that can be spun with two violins, two violas and two cellos. Can be listened back via radio4.nl: doen.
Or take the pieces that Grosz scatters in a Kerkenmarathon. It is the broad name for a series of short performances in the Geerte, Luther and Nicolai churches. More like a triple jump, but again: a mix of familiar and surprising. Mozart with Benjamin Britten; a Bach suite for cello solo, but now colored by two cellos.
Jansen's festival remains the ideal place to see how chamber music works at the highest level. Brahms, Second String Sextet: Grosz, the Israeli, assembled a specialist team around him with a Russian, a South Korean, a Frenchman, a Spaniard and another Israeli. See how focused they look and listen. An instrument shines when it can, retracts when it has to. This is what a paradise with 24 strings sounds like. Final chord, silence, sink, bravos.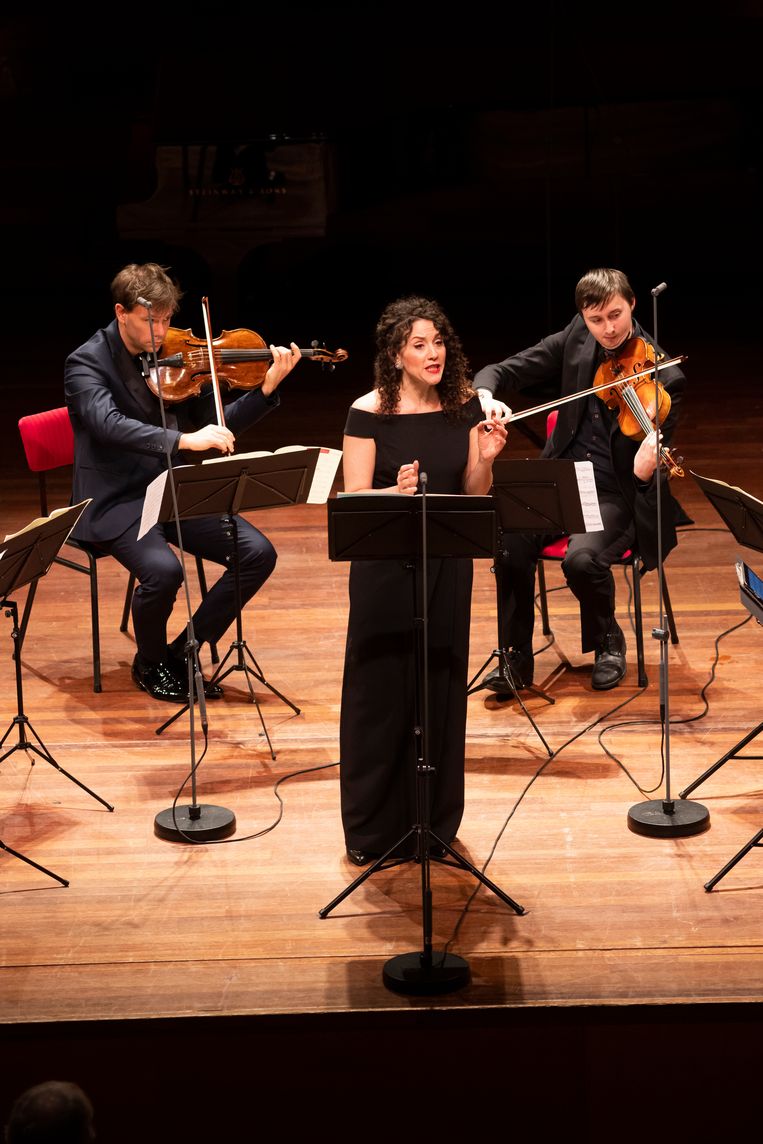 There is still work to be done, because the hall was only half full. The festival tries to cultivate new audiences with walking concerts, a library tour and children's concerts. In this way, everyone from 1 year old can go to Pile'a textless musical performance about discovering, building and breaking down.'
Also this year: Yiddish songs. You had to do a climbing trip in TivoliVredenburg. From long escalator to shorter escalator, from short escalator to shortest escalator. Then continue to the stairs and turn right to the steep stairs. 47 meters above street level you were welcomed with a glass of juice or prosecco.
The soprano Alma Sadé was ready again, this time with operetta, cabaret and interbellum jazz. In recent years, she has rediscovered this broken world in Berlin, in the wake of opera director Barrie Kosky. The vocals were perhaps too classical, but the energetic young Norwegian string quartet that accompanied Sadé, Opus13, proved to be a discovery.
Things are also going well in Utrecht in terms of talent scouting. But the best news for mayor Dijksma and other fans: next year, at the twentieth edition, Janine Jansen will take care of the whole festival as usual.
The Utrecht International Chamber Music Festival will take place in various locations until 30/12.