She couldn't have been much more dignified. Fabienne Chapot, founder of the eponymous Dutch fashion brand, has an office in a huge building on Amsterdam's Herengracht. The heart of the canal belt, exactly in the part called 'the golden bend' because the wealthiest Amsterdammers traditionally lived there. This mansion was built in 1668 by the wealthy merchant and later mayor Joan Corver. In a back room, tenant Chapot shows off excitedly, the original 17th-century ceiling paintings still present, full of colorful birds, clouds and leaves.
So colorful and fresh that they could have been on one of Chapot's dresses. Because that's what the 41-year-old from Amsterdam is known for: Clothes with cheerful, eye-catching prints. Hearts, lobsters, cherries, cheetahs, papayas, stars, palm leaves and flowers, from begonias to daisies, in all shapes and sizes. As in the light yellow dress 'Bella', which she wears herself, from this year's summer collection.
That Chapot and her team are here is a matter of feeling and tenacity. Having outgrown her previous home, her property adviser advised her to move to Houthavens, outside the center of Amsterdam, where fashion companies such as Daily Paper, Viktor & Rolf and Boss are already based. But Chapot is dedicated to the city center, so she looked at Funda herself. She found this 1,100 square meter building where her design, product development, operations, finance, sales, e-commerce and marketing departments all fit. An office on a stand, which also has a spacious garden and a lunch room with kitchen, where the whole team cooks every day. "I want the people who work here to feel comfortable," says Chapot, "a little bit at home. I also feel better when I'm in a nice environment."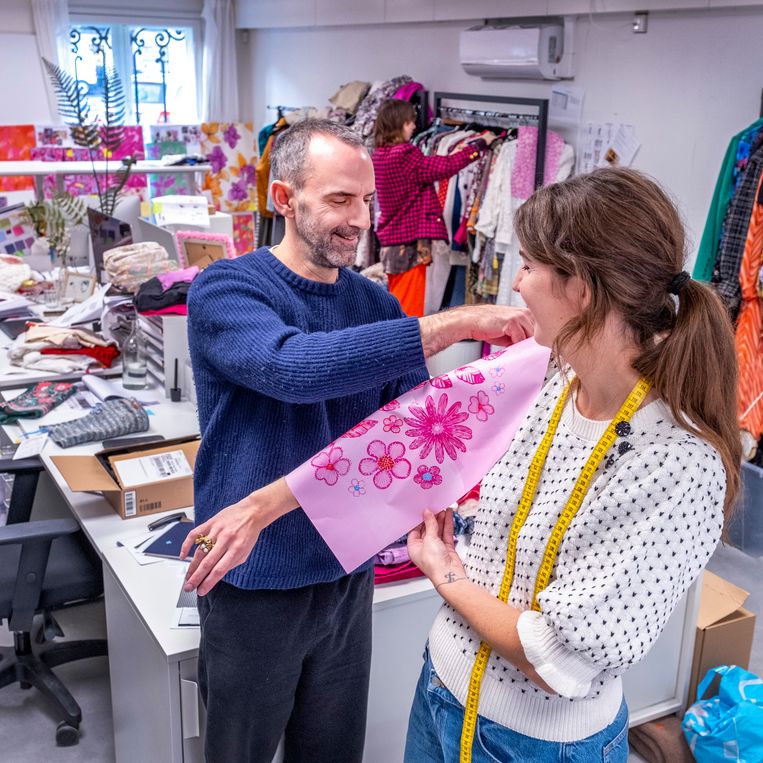 German shops

There was also a move to Houthavenerne: Chapot's showroom is located there, which is very convenient for all buyers coming from outside. Chapot sells its clothes and accessories to twelve hundred stores in ten countries. Half of all sales are wholesale, both online (for example Zalando) and offline (think Bijenkorf and smaller stores). She sells 20 percent through her eight stores in the Netherlands and 30 percent through the webshop. This year, Fabienne Chapot opens two of her own stores in Germany. One will be in Berlin, the other in Hamburg, Munich or Düsseldorf – it has not yet been decided based on the available premises.
That Chapot has become so successful in a relatively short time is also a matter of feeling and stubbornness. Although it was not in line with the expectation that she would end up in fashion. When she suggested studying at Meester Koetsier (the forerunner of the Amsterdam Fashion Institute) at home, her mother objected that she was too impatient to spend hours at the sewing machine. She considered psychology and law, but on second thought chose the 'nice and broad' communication sciences at the University of Amsterdam.
Her first job at an advertising agency was not challenging enough for her. During a holiday in Bali, she came up with plans for leather bags and wallets with stars and hearts on the outside and a colorful inside. She borrowed 40,000 euros from her mother, had a lot of leather goods produced randomly and showed them to friends and shop owners in Amsterdam. Everyone responded enthusiastically and in no time her brand, then still called Fab, was a household name. Chapot was 25.
Copycats

Ten successful years later, Chapot decided to expand into a clothing collection. The brand name Fab, which had not proved to be particularly distinctive, was replaced by her own name. She brainstormed with colleagues: how do we translate the DNA of our leather goods into clothes? 'We arrived at core values ​​such as colour, courage, fun, lightness, comfort. I think practical is a silly word, but I want to be able to ride it eventually. We want to make things that people like to wear, often pull out of their closets, that don't itch, that are feminine, that cover smaller parts and earn compliments. I understand what my client wants, because I am the same way myself. It's actually common sense: what do you feel when you're in a fitting room?'
Six years later, Chapot, who does not design himself, but who sees and decides, employs a chief designer, two print designers and a number of other specialists, almost all of whom are women. Its producers are in Italy, India, China, Turkey and Portugal. Each season, 260 different items are launched following a pyramid model: a top of more daring designs and a broad base of more accessible pieces. She often spots her clothes on the street or at the presenters The 1st and good morning Holland. 'The stylist will be a fan of our brand!' Her customers are women from 16 to 80 years old, with different figures and lives, who feel comfortable and safe in Chapot's pieces. The flip side of success: The competition is to see and copy. Several times she won a lawsuit from copyists.
For the future, Chapot dreams of conquering Germany and expanding his brand with menswear, children's clothing and items for the home. In addition, it aims to be B-corp certified before the end of the year and to have the entire production chain transparent by March. 'I'm in a business that pollutes, period. And the whole sustainability issue is incredibly complicated. But that does not absolve me of my responsibility'.
Fabienne Chapot

Since: 2006
Where: Amsterdam
Employees: 150
Turnover: 36 million euros per year