"I've come to pick up my legs," says a young man, played by Thomas Schellens, to a tall counter wearing only two blue gloves. 'You haven't received it yet?', the latex hands mime back. "No, I'm sure, I don't have legs yet," the man replies, pointing to his missing lower legs with a single finger attached to his elbow. "When did you apply for your legs?" 'A year and a half ago…' 'Then we expect you back in a year.'
If crying wasn't so absurd, you could laugh out loud at this true scene from the show If things go differently by Het Houten Huis, Plan D and Club Guy & Roni. The 30-year-old Schellens plays this counter scene as soberly as it is hypothermic: 'I experienced it exactly like that. There was no lie about that,' he says after a rehearsal in the theater De Lawei in Drachten.
The performance is performed by twelve actors: newly trained mimes, young and old dancers, a musician, a singer, an actor with Down syndrome, an actor without hands and feet and an actress with an incomplete spinal cord injury. Today, a number of acquaintances and family members came to see the nearly completed performance for the first time to give feedback. This week the tests are in Groningen and Haarlem, last Sunday If things go differently (for everyone from the age of 9) premiered in Haarlem. The performance travels through the country until mid-April.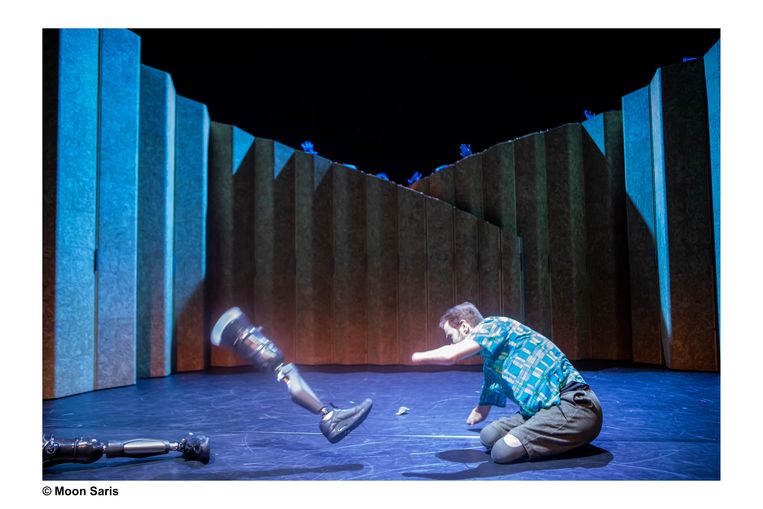 After the rehearsal, director Elien van den Hoek (42) gives constructive tips to the colorful cast with one of the playwrights. Here and there the weight can be even lighter. But the scene where Schellen's desired Segway (a cross between a scooter and a moving step) is not recognized as a means of transport for a disabled person by 'the invisible system behind the counter' has the right Kafkaesque tone. The rules force the man to move around in a wheelchair that is four times as expensive, but clumsy for him: 'My mother threatened to dump that wheelchair on the pavement in front of the application desk', laughs Schellens later. 'It is now fixed, but only after moving to another municipality.'
'A life with care' is the spicy theme that the creators focus on in this visual musical theater performance with light touch, humor and a lot of melancholy. It takes place in a waiting room with movable walls. As if the walls could talk, with a few words and a lot of live music, a series of recognizable problems pass by in five minutes, the kind that people who rely on long-term care must deal with: bureaucratic red tape, from-the-cabinet-to- the wall of frustration, doctors running to emergency rooms, misunderstandings about bad news conversations and well-meaning condescension of the ignorant.
"I may look different, but as a person I am normal. Try to see it for God's sake', stresses the actress Marloes Dingshoff (35). Since a cerebral infarction at the age of 5, she has suffered from epilepsy, autism, self-mutilation, post-traumatic stress disorder and an eating disorder. The fact that she can get in and out of her wheelchair often provokes extreme reactions. But she is a sensitive theatre-maker. Schellens is physically strong: 'People often only see my disability. Come on, I'm a bit clumsy with scissors. But besides that, I can do everything.'
'Everyone just participates', emphasizes Meghan Dobbelsteijn Bisschops (25), who will graduate from the mime course in 2021. 'Thomas carries the heaviest props behind the scenes during changes. But we take each other into consideration. If someone needs to rest in the afternoon, there is room for that.' And Johannes de Jong (24), an actor with Down syndrome, has a trusted companion. He has never gone on tour before, which also requires an overnight stay. 'Esther knows his idiosyncrasies and understands him well. For example, she knows that Johannes always needs nine hours of sleep. And regular frolics', says his mother Jeanet Verveer. She especially recognizes herself in the stacks of paper that the father figure Johannes struggles with in the performance. 'I am still shocked by every official letter. Could I have accidentally entered something wrong?'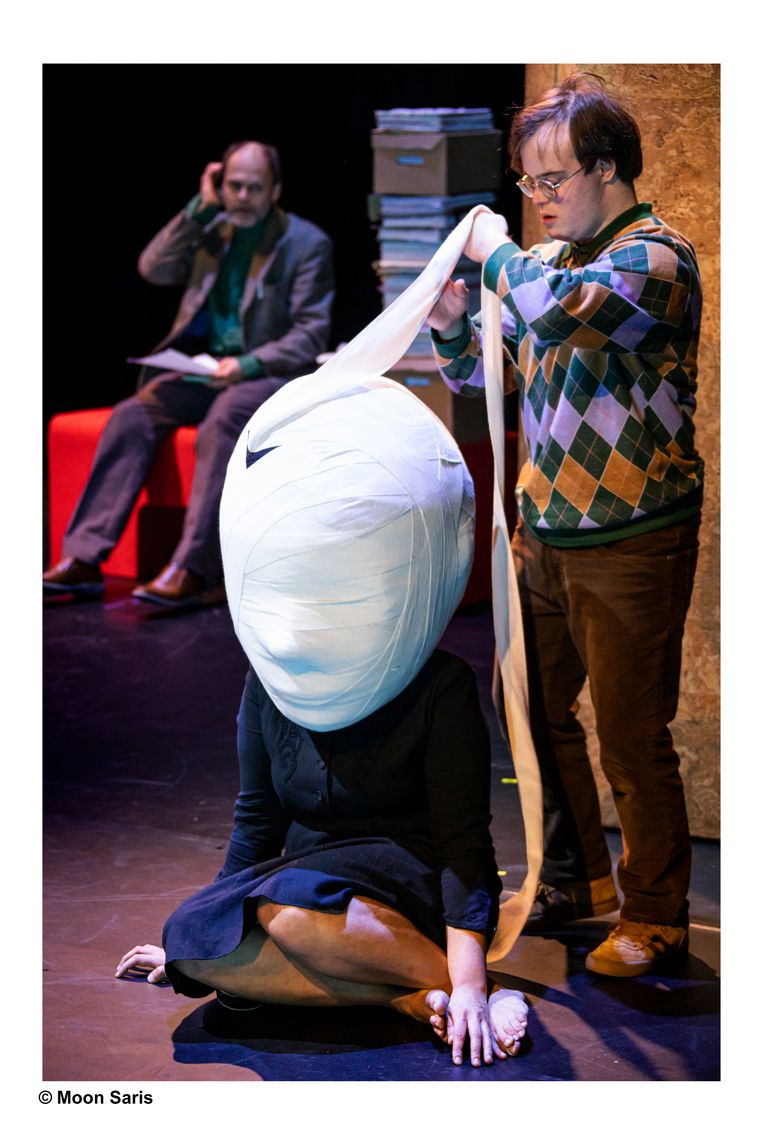 Verveer is surprised to see his son move so smoothly during the exercise. "You see, Johannes can learn a lot. People often forget that". All decision-makers and those involved emphasize that the performance is not a criticism of health or health workers. "They do their work tirelessly, lovingly and skillfully. In the Netherlands we can be happy for all the care available.'
It is the hydrocephalus of bureaucracy that often thwarts a daily life with care. Director Van den Hoek herself was in a medical grind for four years after she was left with chronic pain from the birth of her daughter. 'In all those waiting rooms the walls regularly came at me. But I also saw tremendous vitality in people who were in worse shape than me. I try to collect that in this performance. It is light and heavy at the same time. I hope the audience feels comforted.'
During the production process, they also discovered what it really means to stage and tour with an inclusive cast. David van Griethuysen (47), co-founder of Het Houten Huis, hopes that the theaters will think more about how a performer in a wheelchair enters the stage from behind the stage. "Meanwhile, it's usually well arranged for disabled spectators, but not yet for disabled actors. While they are just as happy to perform'.
If things go differently

By Het Houten Huis, Plan D and Club Guy & Roni. Director: Elien van den Hoek. Music composition: Radek Fedyk. Tour until 15/4.
The tree house

In 2009, four passionate theater makers – Elien van den Hoek, David van Griethuysen, Inez de Bruijn and Martin Franke – founded Het Houten Huis, named after three of them were living in a wooden house at the time. The company quickly proved to excel in musical, almost wordless performances for young and old, with wonderful visuals and moving themes. Productions unfolded on stage like living picture books full of magic. Het Houten Huis moved to Groningen in 2013, where the group has been making waves ever since as the Nordic Youth Theatre. They almost always get four and five star reviews and have often been nominated for youth theater awards.