"Maybe, maybe, maybe." Gregor Weber is emphatically cautious, because yes, it is and will be a theory. Nevertheless, the head of visual arts at the Rijksmuseum in Amsterdam still reveals his findings with a probability bordering on certainty. "You can have a theory, can't you?"
What does that theory imply? In short: that Johannes Vermeer is no longer the 17th-century painter of Calvinist bare-bones interiors, with bare walls and characters who have nothing to do but read a letter, weigh gold and make lace. But that he was a Roman rascal, governed by Jesuit ideas. And that thanks to the Jesuits in his hometown of Delft, he used the camera obscura to make his paintings.
The timing of the disclosure is not entirely unexpected. This spring, the Rijks is showing the largest ever retrospective of Vermeer (1632-1675), featuring no fewer than 28 of the 37 paintings attributed to him. In the run-up to this, Weber's book will be in stores from next week: Johannes Vermeer – Faith, light and reflection. 'My research has become too extensive to be included in the exhibition catalogue. We've made a separate book out of it.'
Weber worked on it for a long time. The most important starting point was a symposium in Frankfurt three years ago, where he became aware for the first time of the paintings that Vermeer himself had hanging on the wall at home, including a crucifixion and a portrait of Saint Veronica. According to the curator, they represent a typical Catholic way of thinking; remarkable for a painter who was Dutch Reformed by birth.
Weber: "Until now, no one had read the inventory list from his property in this way. That one could see the room with paintings in Vermeer's house as a Catholic 'room of attention', similar to his own work Allegory of the Catholic faith, a painting depicting the Crucifixion that Vermeer owned. Plus a glass ball in the ceiling, which is a typical Jesuit emblem.'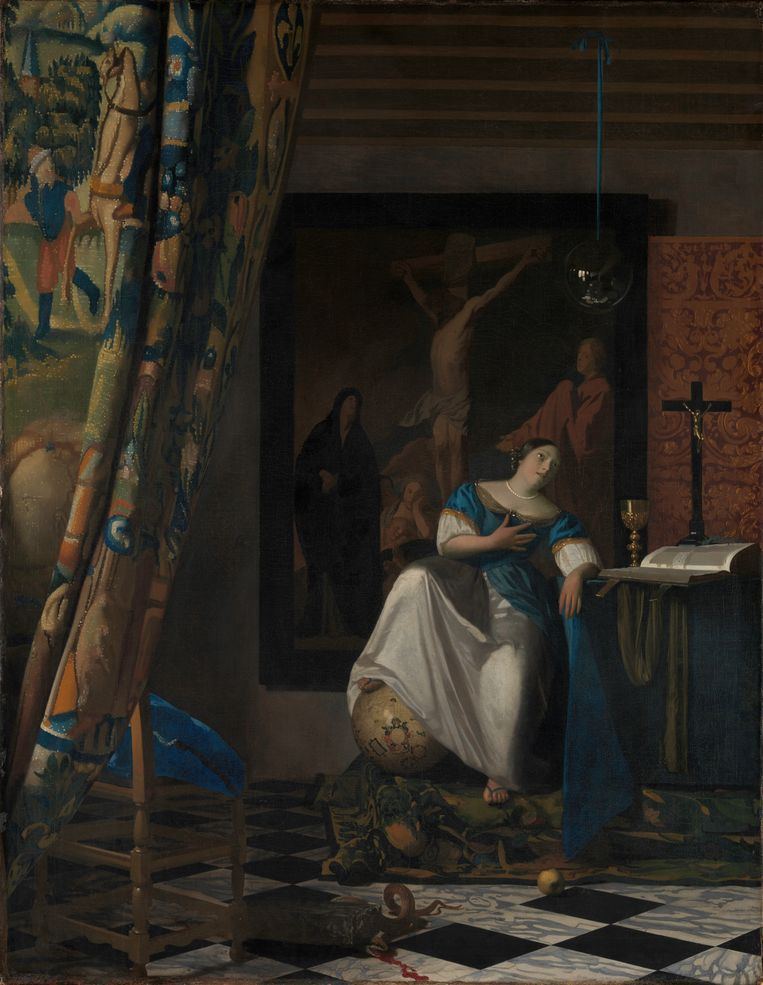 How Catholic was Vermeer? "It is not known whether he was baptized," says Weber. It is clear that he married a Catholic woman, Catharina Bolnes. Mixed marriages were no exception. Catholics wanted both spouses to become Catholics.' According to Weber, there were many Catholics in Delft anyway; wealthy Catholics, such as Vermeer's mother-in-law, Maria Thins, with whom the Vermeers moved in after their marriage. 'She had a big house on Oude Langendijk, in Papenhoek in Delft, as it was called. And she owned a lot of land outside the city. Her son-in-law collected the rent from the farmers there'.
Important to Weber's research was the fact that Vermeer's neighbors on the Oude Langendijk were Jesuits. 'It was already known, but not what kind of influence they might have had on Vermeer.' For example, the Vermeer family had all their children baptized with the Jesuits, and one of their sons was named Ignatius, named after Ignatius of Loyola, the founder of the Jesuit order. "It says something about the bond that Vermeer must have had with his neighbours. It is as if a Jew in Jerusalem calls his son Mohammed.'
So there was enough contact. Also because all the Vermeer family's daughters went to school with the neighbors. "He had eight girls. So he visited the neighbors regularly.'
The only question is: did it affect his oeuvre? According to Weber, yes. Certainly in Vermeer's first paintings the religious aspect is prominent. Mary, Martha, the (Catholic) saint Praxedis and of course Christ himself. After this, Vermeer sets about making genre paintings: interior scenes, with well-dressed citizens, an embroidered curtain on the ceiling, a thick cloth on the table, light coming in from the left, bare walls in the background, the scrubbed tile floor. The kind of work for which he became famous and was labeled 'Dutch Realism'. Calvinist. Forerunner of Mondrian.
Weber: 'If Vermeer sees that his compatriot Pieter de Hooch is successful in this kind of interior painting, he will do the same. Because he knows he can make good money from it. Vermeer was also a fashionable painter; he knew what was in the market for a particular clientele. Seated ladies in red dresses look seductive from the painting. That job.'
But even in these muted, earthly depictions, there is often a religious undertone, according to Weber. Take the woman who weighs in gold. Vermeer makes her do that with a painting of the Last Judgment in the background. Then you get the idea that in addition to gold, her life is also weighed. "I think Vermeer thinks more deeply about certain subjects through his contact with the Jesuits."
According to Weber, these neighbors must also have brought Vermeer into contact with the camera obscura. It has often been speculated that the painter would have used this enigmatic light box, which allows you to project a scene through a lens onto the back wall, so that you can almost paint that scene photographically. 'In one of Sunday's sermons it is about the camera obscura and how it can produce more beautiful images than painters.'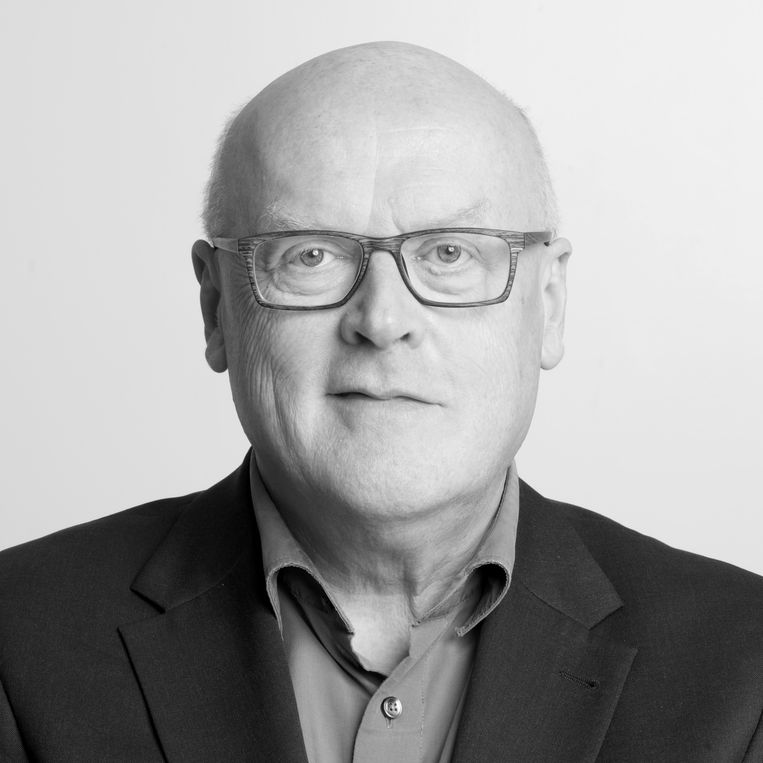 Is Weber not surprised that Vermeer possessed all this Jesuit knowledge? The painter also owned an inn in the center, which he had inherited from his parents.
Weber: 'Vermeer didn't read it all himself, but he picked it up. Incidentally, he did not stand behind the bar in his inn, but rented it out. He was twice head of the Lucas guild, an art dealer, a highly respected man. Ambitious. He was addressed as 'seigneur' in documents. He was married to a daughter of a wealthy family. As the son of a weaver and art dealer, he took a big step up the social ladder.'
By chance, Weber discovered a drawing by the Delft Jesuit Isaac van der Mye in the Rijksprentenkabinet: the portrait of an old woman as the Catholic saint Apollonia. The strange occurrence of light and vague graphite spots, the highly realistic content of the face and the thin, translucent parchment led Weber to suspect that Van der Mye must have used a camera obscura.
"I don't know if it's proof and more research should be done, but I felt like I'd never been closer to using a camera obscura." A nice fortuitous factor, according to Weber, is that a year after this Van der Mye's death, in 1656, Vermeer began to paint camera obscura-like, 'with dots, grainy stripes, later more vagueness, mosaic patterns', as if he used his deceased neighbor's light box.
Nice example The lace maker. Weber: 'The threads in her hands are sharply painted, while comparable threads in the foreground are much more blurred and look more like liquid wax. This difference in focus is typical of projection with a camera obscura: unlike the human eye, a camera lens can only focus on one point. Everything around it looks blurry. In order to paint it, Vermeer must have seen it. Not that he painted everything through such a camera, we don't know exactly how he used it, but it is unique to him. You won't find it in anyone else'.
Has Vermeer's image been changed by these findings? 'Something is being added to the existing knowledge of Vermeer. The idea that he was closer to Catholicism than we thought is enriching to me. Like he had other Catholic paintings in his house. Or learned about the camera obscura thanks to the Jesuits. It gives me a new insight and a better understanding of the painter.'
'In the 19th century he was called 'The Sphinx of Delft' because so little was known about him. At first glance, he paints people reading a letter, making music, pouring milk from a jug. But he does it differently. Many smart books have been written about the possible influence of Plato and Descartes or Spinoza. Much remains loose sand. Not if you look at the neighbors, the Jesuits. Then the use of light, camera obscura and certain religious motifs suddenly provide a coherent image. Of course, that remains a theory. But things fit together nicely.'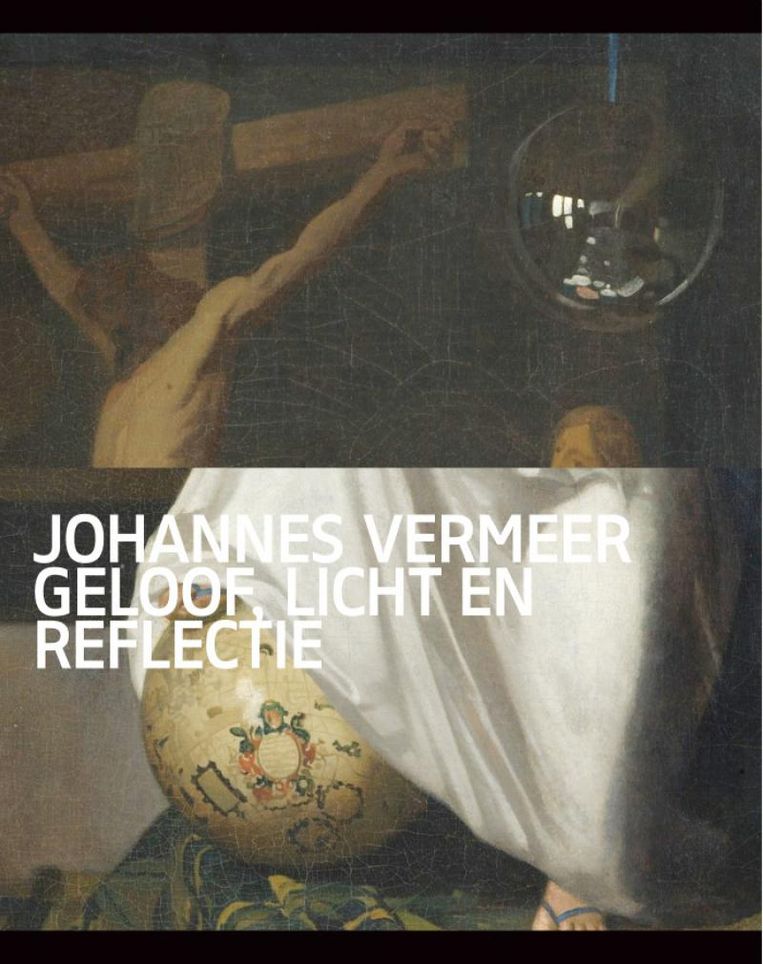 Gregory Weber: Johannes Vermeer – Faith, light and reflection. NAI Publishing; 168 pages; €25.
Vermeer10/2 to 4/6, Rijksmuseum, Amsterdam.
Display box

Did Johannes Vermeer use a camera obscura ('dark room')? Camera obscuras were already known in the 16th century. Light entered through a hole in the wall and an inverted image was projected onto the wall. The pinhole was later replaced with a lens; the dark room through a small box, model old-fashioned photo camera. Exactly how Vermeer used this is unclear.