Naked, painted gold and surrounded by bubbles, Goldendean sits atop a sand dune. For a long time, the artist made himself as invisible as possible, they say in the video Breathe.Goldendean (2018), now on display in Museum Arnhem. Because a body like theirs – 'fat, queer and trans' – is often labeled as worthless by the outside world. The artist will now show himself. In videos and performances, Goldendean paints their bodies gold to emphasize their value. The large inflatable sculpture in the middle of the museum room is also based on the artist's body: a festive golden landscape of strong, round shapes. Don't hide anything, this body takes up all the space.
Trans and queer joy

Deviating from gender and body norms doesn't have to be painful, it can actually feel liberating and blissful. That is the idea of ​​the exhibition in a nutshell How dare you make me feel this way in the Arnhem Museum. Where discrimination and the physical details of transition are often central when it comes to trans and queer people, this is not the case here. The exhibition is about trans and queer joy. Or, as the compilers write: 'about saying 'no' to restrictive frameworks and 'yes' to freedom of movement.'
The special thing is that the compilers, seven in total, are queer and trans people themselves. The media often talk primarily about this group, here they tell their own story. Or rather: their stories, which are as many stories as there are queer and trans people.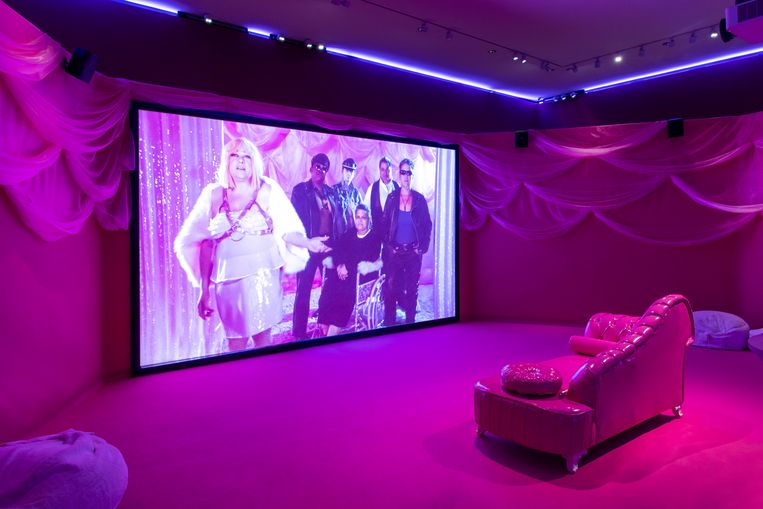 IN How dare you… do you see that polyphony again. Not just in the art itself, which sometimes plays with stereotypes (pink, buttplugs and leather suits) and other times rejects them. Polyphony can also be heard in the wall texts where compilers explain what appeals to them in the artwork. For example, I read that Goldendean's inflatable sculpture at Storm evokes a sense of security. In general, 'objective' information about the works of art is scarce, one has mainly to make do with these personal observations.
Enrich can

One can well be annoyed by such a purely subjective approach to art, which lacks art historical grounding. The approach is certainly not suitable for all subjects. Yet something special happens here: as a visitor, you are invited to see the artworks through the eyes of the compilers.
Whoever does so sees surprising things. For example, I wouldn't have linked artist Kinke Kooi's swirling purple and gold lines to queer identity. But when I read that co-compiler Zacquel in her painting Me and we / Individual and Collective Aura (2010) recognize both the euphoria and confusion of queer people, I imagine. The lines form a complex network of interlocking shapes, with a lone cluster of lines on the right crackling and shining like a flare. Embracing your being gives you freedom, but sometimes it also gives you loneliness.
Can you also see other things in it? Of course. The texts do not impose a vision on you, but they can enrich your vision.
Open up to new perspectives

Still, the composition and rhythm are somewhat out of balance. The first room mainly contains photographs: (self) portraits of queer and trans people. In the second room, it shoots in all directions. The refined painting by Kinke Kooi is drowned out by five large, hard-blinking photos by Risk Hazekamp on the left and three buttplugs by Carly Rose Bedford covered in colored liquid glass. They are all interesting art projects, but they are so different in form that they undermine rather than enhance each other.
More than just an exhibition How dare you… an experiment, an exercise in how a museum opens itself up to new perspectives. Diversity and inclusion in museum land is often still a matter of hindsight, of a sounding board group that can provide some nice connection, while the concept has existed for a long time. Museum Arnhem chose a radically different approach here. The workmanship is not perfect, but it is brave and exciting.
Unlocks

How dare you make me feel this way is part of the four-year 'Disconnecting Limits' project by Museum Arnhem and Nijmegen Museum Het Valkhof. In order to appeal to new target groups, the museums take turns creating an exhibition with 'audiences in housing'. In other words: a group outside the museum that will play a major role in putting together the exhibition. The seven compilers of How dare you… was chosen from among 135 applicants. They come from different corners of the Netherlands and from different generations: the youngest is 21, the oldest 64. They were given ten months to fill two rooms with work that appeals to them. The project was guided by Julius Thissen, who is at home in the trans and queer milieu and who works in the cultural sector with those glasses on.
How dare you make me feel this way

Visual art
★★★☆☆
Museum Arnhem, until 14/5.