RS: Let's go back to the late eighties or early nineties: if you grow up in a family, your father is a politician and your son or daughter wants to be a fashion designer, it would be 'oh, my god' a disgrace.
MP: I was ashamed…
RS: It has changed. Sometimes I feel that every parent wants their child to be a fashion designer. Because, oh my god, the big bucks.
MP: Maybe, but still: I'm old and I've been ashamed all my life, if a little less now. With the money I earn, I can do good things – the one foundation e.g. But that's my thinking: I'm not saying I'm right. A lot of people tell me that I don't…
RS: It's not about right or wrong. Fashion has just evolved, both positively and negatively. Which leads to another question. Because you can think of fashion as something that used to be seen by the majority as ewwww at the same time, the fashion world itself was elitist. Now I think it's the other way around. I don't know if it was better then or if it is better now. As you say, Miuccia, I don't know if I'm right either. Both periods have their problems and advantages.
Vogue: So you think fashion has become less elitist in recent years?
RS: Yes, I think so. This also has a lot to do with scale. You now feel that you are always judged on how much revenue you make and how you perform as a company. I used to feel the opposite, that I was only judged by my creativity, by my brand.
MP: Yes, I think a few years ago you were judged on your creativity. Now to how much money you make… Money rules the world. It's really new to me that everyone only talks about money, it wasn't like that before.
RS: Once you're a multi-billion dollar company, the judgment is based on economics.
MP: At the same time, I really appreciate our work. You need culture and a lot of knowledge about fashion. Our assistants not only know a lot about fashion, but also about architecture, art and music. In other fields, people mainly know a lot about their own work. The fashion world is full of people with knowledge and that attracts creativity. Actors, directors, artists – they all want to work in fashion. Maybe for the money, but also because there is a lot of energy.
RS: The fashion world has always been open to other areas. But I remember that there was once a resistance, so to speak, to connect. People would say, "Bleurgh, that's fashion," compared to architecture or art.
MP: That has now changed.
RS: Absolutely! Art wants to connect with fashion.
MP: Recently I met a serious archeology professor who said he wanted to come see a show, the same goes for a famous artist I met.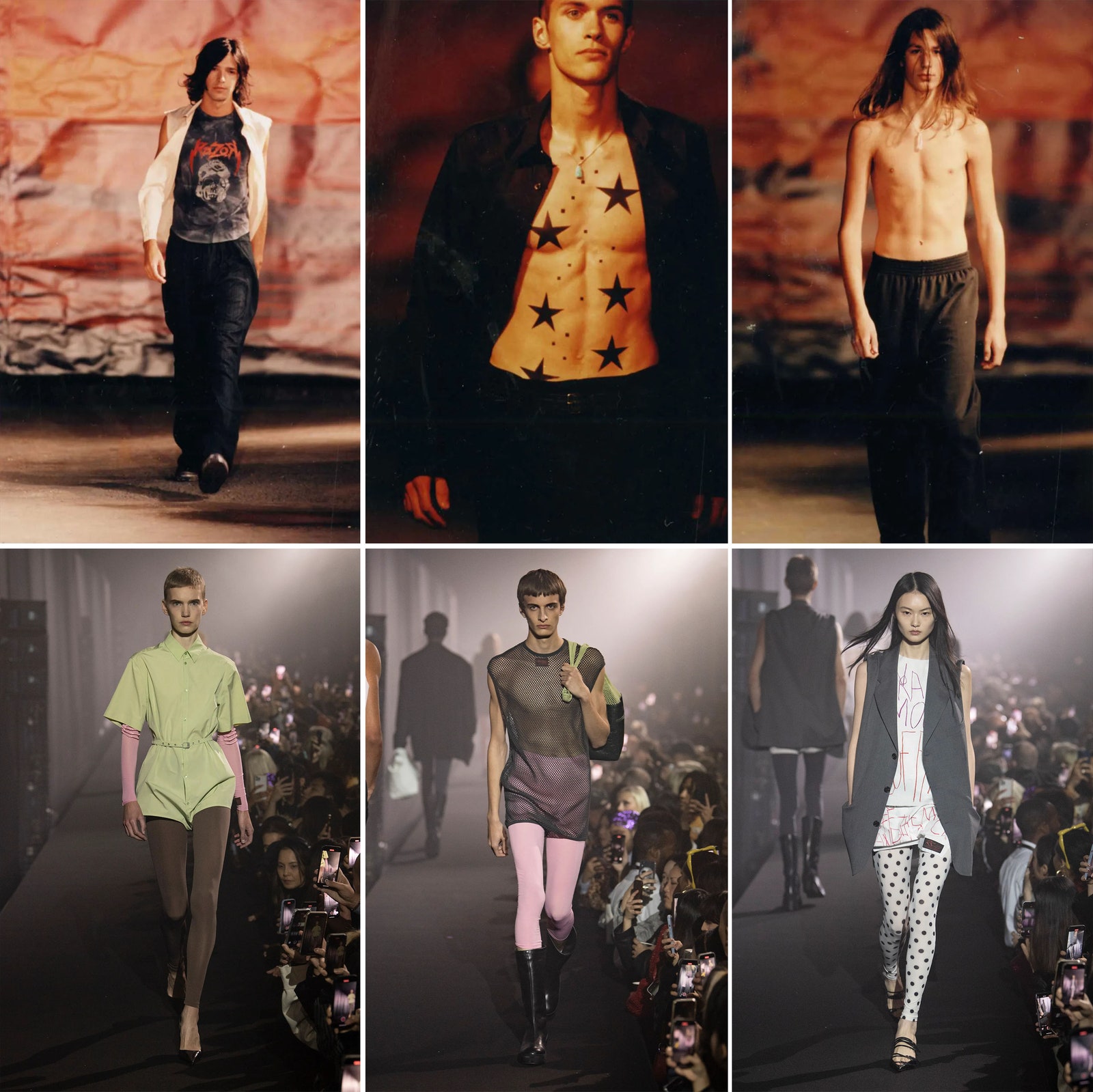 RS: In many of the areas we're talking about, creatives themselves have always been open to connecting. I don't think artists looked down on fashion. They are interested in art, architecture and stories. Sometimes it's the artist's environment that feels resistance: 'Oh, don't associate yourself with fashion because it's bad for your reputation'. A long time ago I often felt it. Now it has changed to almost the opposite – fashion is seen as a spotlight. Although many people now want to connect with fashion because they see it as a means to speed things up. I prefer the opposite… Fashion has always moved very quickly.
MP: I remember a famous architect was so jealous of it. He said, "When I see a building I designed, it's already old."
RS: Because it can take 10 years!
Vogue: Don't you think there is a correlation between time and speed? Architecture will always seem more serious because of sustainability.
RS: The responsibilities in architecture are also very different. We all talked a lot, especially in the 1990s and early 2000s, about clothes that last. But the nature of fashion is that it is constantly changing, which is much less the case with art and architecture.
MP: People are not used to the speed of fashion in art. By foundation I try to get things going – in art you can be more relevant if you are quick. Speed ​​can make art better.
Vogue: You've been working together as partners for almost three years now, and we've had a global pandemic at the time: how has the collaboration evolved over that time?
RS: The pandemic literally hit the day we announced our partnership. I'll never forget it.
MP: The time we spend on ourselves has improved. We are always working because there is always so much to do and both work instinctively but with little time to really discuss things. Now we also talk more and more about the theory, because otherwise we just work. Which is going well, because I've always liked his work, and I think he likes mine. So working together is easy, a pleasure. But we take more time to both discuss and work, important!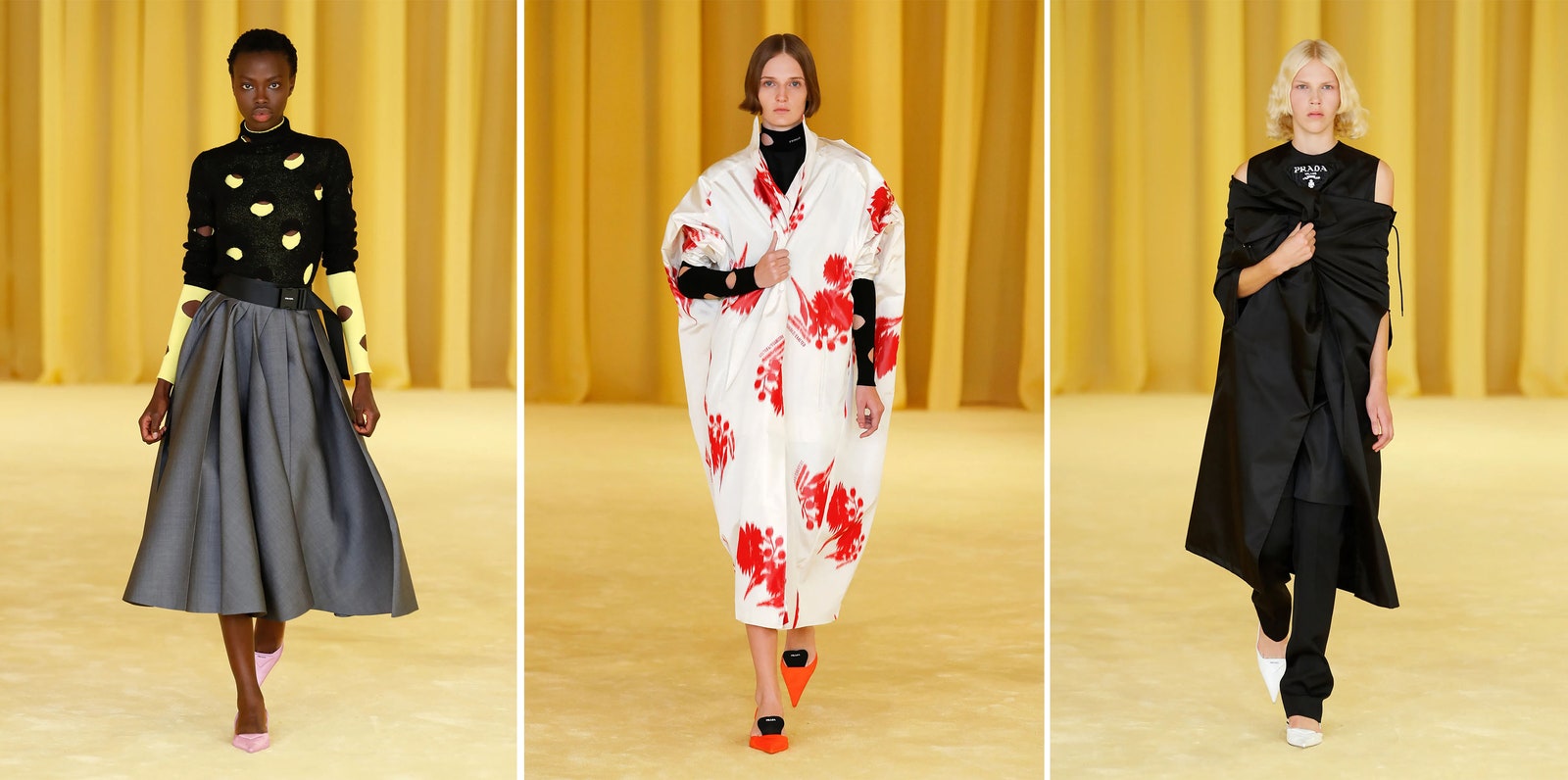 Vogue: You knew each other's work before 2020, but how well did you know each other?
RS: A little. By designing in Milan for Jil Sander. And yes, it was Prada that put me there. I will never forget that, a strange experience. I was very aware of how I was labeled by the fashion world as…
MP: …intellectual?
RS: … Also kind of like a trashy, youth, men's and punk designer. And suddenly there was Jil Sander! Men and women, and minimalist. So I was impressed that they chose someone like me. I thought, 'Okay, I have to do my best here'. We didn't really see each other much then. Prada sold the brand after the first show, but I hope Miuccia liked my work. I've always been a big fan of hers. Besides looking at fashion designers in general and liking them for their work, there is also a difference when you wear the clothes. I've always worn Prada.
MP: I remember Olivier Rizzo, the stylist, who worked for us and was also close to Raf. Sometimes when we were preparing the show and I said, 'Oh, I want to do that', he would reply: "Miuccia, unfortunately…" Every time Raf had already done it!
RS: We always had a little bit of contact. I came to the shows and backstage. And even Mr. Bertelli – sort of – kept in touch with a letter.
MP: Yes, he loves you!
RS: When my time with Calvin ended, he asked, 'Can you fly to Milan? Let us talk'. This idea grew out of that. In fact, it always felt very natural and still does. That's partly because Miuccia is so specific. And then there is the respect that I need. I have always benefited from people who worked differently than me. They have progressed and have their own position, like Pieter Mulier and Matthieu Blazy, and I am super happy for them. The point is that I need dialogue, with Miuccia it's a different kind of dialogue.
MP: It's always good to talk to someone you respect and who is strong. A pleasure and a comfort.
RS: In your own brand, you are alone, even though you have incredible teams. You know that you are the one who has to make the final decision. Here, in principle, we make all decisions together. When Miuccia makes a final decision, it makes me happy and relaxed. It is also the other way around.
MP: I like it too, it's fun.