General

ZAANDAM – "We again organized this New Year's meeting together with De Maatschappij and the Zaan women's network ZaanLinQ, and it feels very good. As entrepreneurs, we are all busy, so it is good to coordinate the activities in our annual diaries", said Corner chairman Ton Komen on Thursday at the New Year's reception, where everyone toasted to a good business year.
"No one just turns to us for help. You can also just be unlucky."
Culture center De Bullekerk was an excellent atmosphere for the meeting, where the Food Bank Zaanstreek was selected as a good cause. For ZaanLinQ chairman Amber Hackmann, it was her first appearance in a joint setting. She succeeded Nicole Horak last summer.

Ton Komen, chairman of De Corner, was pleased with the collaboration with De Maatschappij and the Zaan women's network ZaanLinQ.
'Share your own happiness'
On behalf of the three organizing business clubs, at the beginning of the evening she was allowed to hand over a starting check of 1500 euros to Hans Brinkhuis, chairman of the Food Bank Zaanstreek. With the entrance ticket to the gala evening, those present had already made a small donation to the Food Bank under the motto 'share your own happiness'. On the evening itself, you could let your heart speak extra through a donation with a QR code for various food packages.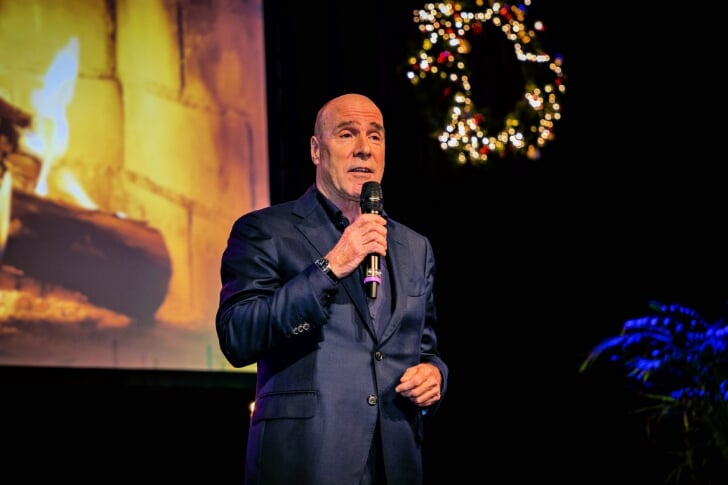 Guido Voss, Chairman of De Maatschappij, Zaanstreek-Waterland branch.
Holocaust Remembrance Day
Guido Voss, chairman of the De Maatschappij branch Zaanstreek-Waterland, in his foreword was also pleased with the large turnout. He also encouraged those in attendance to show their faces at the Society's Holocaust Remembrance Day on 29 January. (formerly the Auschwitz Memorial). "We are pleased that Job Cohen – former foreign minister and mayor of Amsterdam – came as a speaker. Our own mayor Jan Hamming is also present at this celebration."
Help 'much needed'
"Currently, 280 households in the Zaanstreek knock on the door of the Zaanstreek Food Bank every week, an increase of twenty-five percent since August 2022. That's 800 people, including 300 children. Figures that we are not proud of, but which show that we are literally 'necessary'", Hans Brinkhuis, chairman of the Zaanstreek food bank, told the audience in attendance.
13,000 food parcels
"Last year we were able to distribute 13,000 food parcels with a food value of 600,000 euros. It is done by our 170 volunteers." The chairman expects a further growth of Zaankantere, who are in financial problems and must appeal to the Food Bank. "This year a new challenge awaits us. We expect growth to over 300 families. So we will have to do everything we can to help everyone who calls us."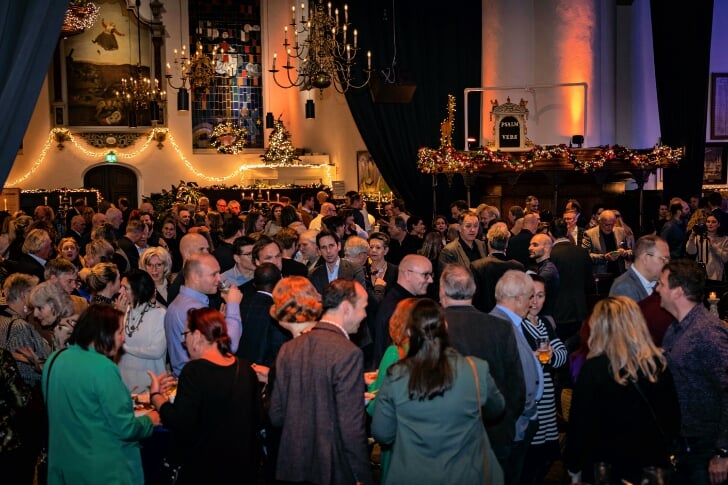 The New Year gathering in De Bullekerk was very well attended.
Many thanks
That an amount of 5925 euros had been collected at the end of the gala evening was absolutely fantastic for Hans Brinkhuis. "A big thank you to all the entrepreneurs who have already let their hearts speak tonight. Actions like these are still necessary. Because there is actually no one just knocking on our door for help. You can also just be unlucky."
Luck
The organization itself was fortunate when they came into contact with Corner Chairman Ton Komen through Rotary's banquet letter campaign. "He came up with the idea to support us at the New Year's meeting of the three business clubs. De Maatschappij chairman Guido Voss and ZaanLinQ chairman Amber Hackmann were also positive", says a happy Hans Brinkhuis.
The food bank is forced to purchase part of the food for the packages itself. For example, because the stores themselves offer products that are close to their expiry date.
Collection campaign at AH on February 4
The Zaan audience can make a donation to the Food Bank Zaanstreek on Saturday 4 February. Then a shopping campaign is held in seven Albert Heijn stores under the motto 'you can't learn on an empty stomach'. For more information, see https://voedingbankzaanstreek.nl, where you can also donate online.