The technology company Ridder has built climate screens for greenhouse growers since the 1960s. Knitting the screen cloths for the greenhouses to simulate any climate is now fully automated. 'Growers use screens, just as a house is insulated with double-glazed windows,' says Joep van den Bosch, Ridder's head of innovation.
At the factory in Maasdijk, a roll of foil is cut into thin strips. The roll is like a spool of thread, from which 1,200 threads are fed to the knitting machine. The strips are sewn together and heated to shrink them slightly. "Like your pants got a little shorter after washing." After this, the cloths, with patterns in all possible shapes, can be cut to suit the size of the greenhouse.
For example, Ridder is developing several technologies to help farmers with the energy transition. The factory in Maasdijk is at the epicenter of greenhouse horticulture in West Norway. The trade association Avag represents 75 companies from the 'agritech sector', including Knight in horticulture technology, with an annual turnover of 3 billion euros.
Empty greenhouses

Greenhouse horticulture is under pressure due to high energy prices. "It hurts to see empty greenhouses in winter," says Pascal Piepers, director of Ridder. That picture raised the question of whether flower breeding and tomato growing should still take place in the Netherlands. According to Piepers, the statistics give an affirmative answer.
The average yield per square meter in a Dutch greenhouse is 60 kg of tomatoes. In Spain, in the areas where the sun almost always shines, it is 25 kilos. In an open field in America it is 5 kilos. That yield is crucial for the food supply in a densely populated world. The Netherlands is the front runner ahead of Canada and Mexico.
Statistics Netherlands has calculated that the Netherlands lags behind the growth of organic farming in a European context. Ridder sees innovations as the key to a sustainable future. According to Piepers, the Netherlands must manifest itself as a trendsetter. 'I want to give society that innovations are not punished, but stimulated.'
Proud of the Netherlands

Take the ideology out of the discussion about the size of agriculture and horticulture, says Piepers. 'We can be more proud of what we have already achieved in the Netherlands. We are of course not finished with the energy transition, but we have already taken significant steps. Growing locally sounds great, national borders shouldn't be leading the way. We must maintain our leading position in horticulture.'
Ridder derives the majority of its revenue from abroad, where Dutch technology is considered to be leading. 'In 2050, 8 billion people must be fed, and it must be managed effectively,' says Piepers. 'During trade missions with the government, I notice that the rest of the world is seeing how the Netherlands is shaping innovations and the energy transition.'
Ridder also has a branch in China, while exports to that country are under scrutiny. For example, America does not want Dutch ASML to supply chips to China. "Our revenue model is innovation, and of course we are careful about what we share and with whom," says Piepers. 'The geopolitical rules of the game are not getting any easier.'
But don't exclude China from the energy transition, says Piepers. "It is important that we can build greenhouses in China so that food can also be produced in a sustainable way. We want to play a prominent role with our technology. The world needs our market.'
Agricultural innovations

This is how Frans Nugteren came up with it when he connected a ditch cutter to his tractor when he founded Ridder in Ridderkerk in 1953 in order to be able to dig the ditches more efficiently. After moving to Harderwijk in the 1960s, Nugteren invented a drive system that made it possible to open and close greenhouse windows.
Her grandfather, who died in 2016, was a visionary, says Brigitte Nugteren, who represents the third generation of the family as operations director at Ridder. 'My grandfather was very enterprising and creative, he always knew how to turn his ideas into new products. My parents continued the business, but grandfather remained a driving force for a long time.'
Brigitte Nugteren is not on the board because of her surname, emphasizes director Piepers. "But because she is excellent at her job." Isn't she in a dilemma as a board member and shareholder? 'It is a special distribution of roles that we have made good agreements about,' says Nugteren. 'We are open and transparent, this does not lead to conflicts. And of course I stay close to my family.'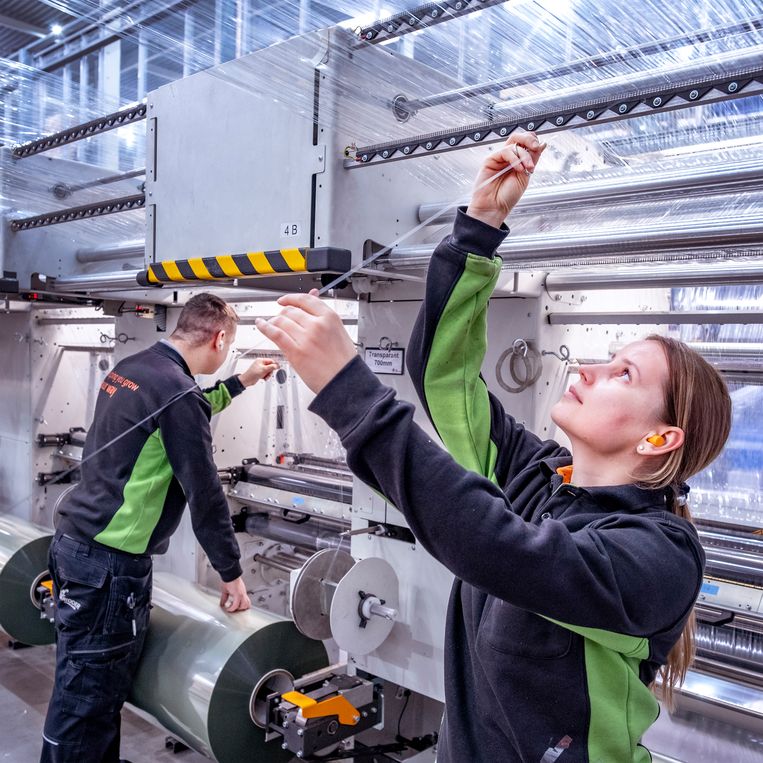 For example, Brigitte Nugteren still spars regularly with father Henri, who managed the company together with his brother Leo for 35 years and worked at Ridder for no less than 44 years. 'I've always said, Dad, I'll do it my way. My father leaves me free in my choices, he is my sounding board. In fact, we still use the same vision as my grandfather, we always try to respond to the customer's needs.'
Selection of robot and algorithm

For example, Ridder sees robotization and the autonomous greenhouse as the answer to the labor shortage. The picking robot in tomato cultivation will be common in five years, predicts innovation manager Van den Bosch. The breeder's knowledge is being passed down less and less from father to son, Ridder notes. In the autonomous greenhouse, that expertise is recorded in algorithms.
For example, at the push of a button, the grower uses Fert-IX, a system to 'taste' the water for the right mix of fertilizer when growing plants. Van den Bosch: 'In this way, the grower can enter the cultivation recipe on his computer, another step towards a sustainable and efficient food supply.'
The company
In this weekly column, entrepreneurs talk about their business. Today: Ridder in Maasdijk and Harderwijk, founded in 1953, with 350 employees and a turnover of 78 million euros in 2022.