One of the female artists whose work can be seen in the exhibition Women's palette 1900-1950 in the Kunsthal in Rotterdam, often used Bob as a stage name. Rebecca van Gelder (1891-1945) thus prevented her from being labeled as a female artist in advance. Understandable. For 'art is a male affair', wrote the Catholic poet and art critic Jan Engelman in 1931. This was the prevailing view, as is evident from the catalog accompanying the exhibition. Even the modernist Piet Mondrian believed that abstract art was not for women: abstract thinking was something masculine.
This approach from Bob, who also published sarcastic cartoons and who died in the Bergen-Belsen concentration camp, invites you to do a thought experiment as you tour the exhibition. There is art by 24 women who normally use their female name, regardless of whether they are supplemented with their husband's name.
What if we forget all the female first names when we look at their art? Or replaced by names like Robin, Mick or Guus, or Jan or Piet? It is not about obscuring their names, they must be honored. But to see their art as gender neutral as possible. Is their art somehow inferior to that of male contemporaries – who were easily recognizable?
Better than men
For the works of art that are on Women's palette shown, it is not possible to tell whether they were made by a man or a woman. These are good paintings in all sorts of styles. Like a fantastic painted portrait of a woman by Greet Feuerstein from 1928, a bit in the style of Charley Toorop – but better and, as one critic wrote at the time, "without ever becoming an imitation". The powerful abstract paintings with solid black lines by Jacoba van Heemskerck, Charlotte van Pallandt's female body, her beautiful female head carved in granite and her cubist painting of a reclining nude woman, the ghostly social realist paintings of Jemmy van Hoboken: they are all works of art that are as good or better than their male contemporaries.
But it was seen differently at the time: women played second fiddle as artists, as is also evident from the catalog accompanying the exhibition, which in part has previously been exhibited in Museum Dr8888 (Drachten) and De Wieger (Deurne). It contains short biographies of the exhibitors and articles on the difficult struggle of women artists in a man's world.
It already started with the art courses. It was not until around 1870 that women in the Netherlands were admitted to higher art education. Even then, August Allebé, the director of the Amsterdam Rijksacademie, believed that art remained a man's business. For example, he wrote: "For most women painters, the person is more worth seeing than the work." No wonder that many Dutch artists, whether ladies of good birth or daughters of tailors, more or less fled to Paris, the capital of art, where a less conservative climate prevailed.
Paris as liberation
In Paris, Karin van Leyden became acquainted with avant-garde artists such as Chagall, Zadkine and Man Ray. She and her husband traveled to New York in 1939 before the impending war, where she became a high-society painter; the exhibition shows her portrait of the wealthy Gloria Vanderbilt.
Else Berg got to know Mondrian, among other things, in Paris and became a valued modernist – until she was murdered by the Nazis. After the war, it was sculptor and painter Lotti van der Gaag who went to Paris and ended up in Cobra circles. She worked with them and her experimental images have been praised. But the Cobra artist Corneille still wrote a furious letter to the Stedelijk Museum in Amsterdam in 1994, which Van der Gaag included in the Cobra group: he believed that "serious falsification of history".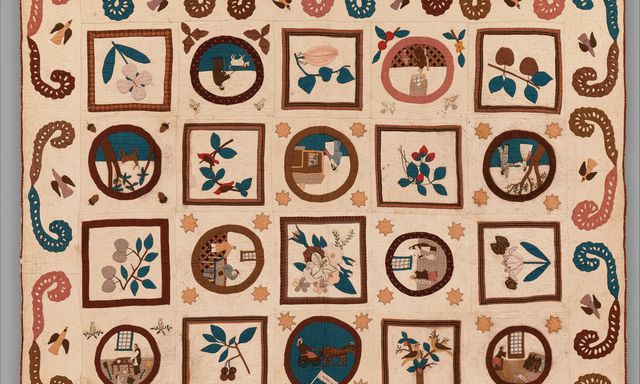 Also read: Labels such as outsider art and folk art make women artists less visible

For women between 1900 and 1950, it was more difficult than men to be successful as an artist. This is clear from the stories in the catalogue, which occasionally refer to Jolande Withuis's recent biography of the artist Jeanne Bieruma Oosting, a contemporary of the Kunsthal exhibitors. Withuis describes in detail the struggle a woman had to wage in order to be recognized as an artist in her own circle and the outside world.
'Between loving and working'
Women were expected to stay at home and take care of children, not to pursue a liberal profession as artists. "It's always that: the battle between love and work. It is almost impossible to work together – at least for me: the struggle between being a woman and creating works", Charley Toorop (also at the exhibition) is quoted in the catalogue.
She wrote it to the poet Hendrik Marsman, with whom she had an affair. Art and marriage did not go together as far as she was concerned. The artist Kees van Bohemen wanted to marry the sculptor Lotti van der Gaag, but then she had to stop working. She refused. Until 1957, married women were 'incompetent' in the Netherlands – so that didn't help matters either.
The exhibition also includes colorful work by Alida Pott (1888-1931): a female artist who was more or less crippled by marriage. She studied art in The Hague and Groningen, where she became an artist and art teacher. She joined Groningen's artist circle De Ploeg: she designed the logo for the group. She made special watercolours, which can be seen in the Kunsthallen, and married fellow artist George Martens, who is also a member of Ploeg. As an art teacher, she took care of the income and the children, he worked with his art. Pott died young, aged 43, in 1931. Martens then hid all his work so that his wife became invisible as an artist. It was only after Marten's death in 1979 that her art reappeared – and again reaped success.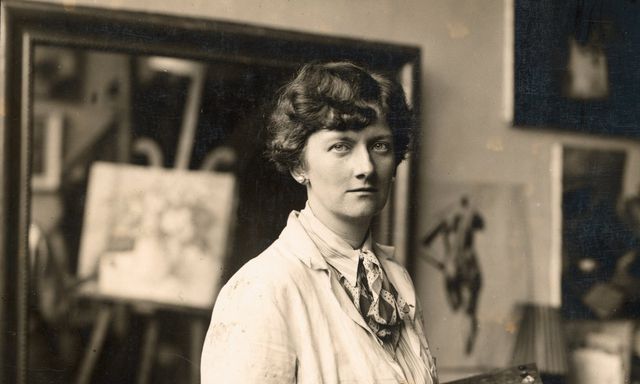 Also read: About the rebellious 'ukeminine' artist Jeanne Bieruma Oosting